Schedule Sneak Peek: Holy Cross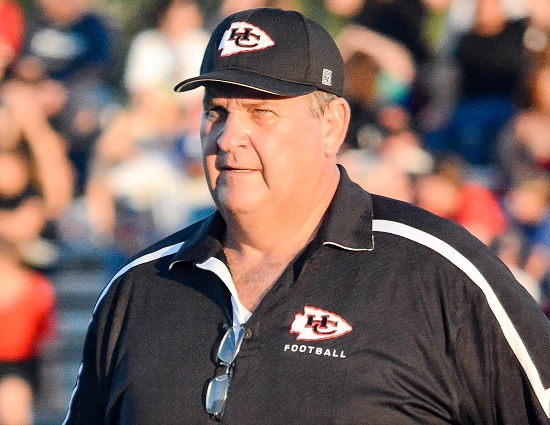 Holy Cross head coach Bruce Kozerski (Cathy Lachman/TSF)
There is no such thing as over-scheduling in Kentucky. Virtually every team makes the postseason on a yearly basis. Holy Cross is banking on the regular season preparing them mentally and physically for the playoffs. The question is, did they bite off more than they can chew?
The first six games of 2017 are just brutal for a "raw" ball club like the Indians. That journey begins with '15 Class 1A state champions, Pikeville and ends with '16 Class 1A champs, Beechwood.
Pikeville will be followed by a pair of contest versus larger schools, Scott and Goshen (OH).  Both of those teams have athletic and experienced backfields. They are beatable but a flawless effort will need to be had by Holy Cross. A trip to Walton-Verona, who is a mirror-image of the Indians could also be a precursor to a first or second round playoff game.
Holy Cross will play its second interstate affair in four weeks as they host CHCA. The Eagles are one of the favorites to win the Division V, Region 16 title in Ohio this fall. This is a future rivalry that makes sense in so many ways. Two private schools, approximately the same size, that hold esteem and character in high regards with those traits carrying over to the football field.
The last four games are all in district play. This a good spot for the Indians to gain some momentum heading into Week 11.
Here is a look at the 2017 Holy Cross schedule:
Fri – 08/18/17 – @Pikeville – 7:30 PM
Fri – 08/26/17 – @Goshen – 1:00 PM
Fri – 09/01/17 – SCOTT – 7:00 PM
Fri – 09/08/17 – @Walton-Verona – 7:00PM
Fri – 09/15/17 – CHCA – 7:00PM
Fri – 09/22/17 – @Beechwood – 7:30PM
Fri – 09/29/17 – @HOLMES – 7:00PM
Fri – 10/06/17 – NEWCATH – 7:00PM
Fri – 10/13/17 – NEWPORT – 7:00PM
Fri – 10/20/17 – @Lloyd Memorial – 7:00PM
FINAL TAKE: Holy Cross made it all the way to the Class 2A final four in 2016 The Indians lost a ton of experience from that squad to graduation. Head coach Bruce Kozerksi will challenge his '17 troops to step up. Kozerski still adheres to one credo he learned as an NFL player from his legendary coach, Paul Brown – "be a man." It is a three word, six letter motto that gets right at the heart of accountability. This '17 Holy Cross team has a lot to live up to and excuses will not be tolerated.
If somehow Holy Cross can manage to finish the regular season at 5-5 or better they are going to be a menace in November. With a brutal 10-game slate, Kozerski and his staff will have to closely monitor his teams psyche on a weekly basis. Such a young and unproven squad has to avoid a shattered confidence that could be brought on by some lopsided early season losses. To say that this season will be a taxing one on the program, is an understatement.