Elder Starts Season with victory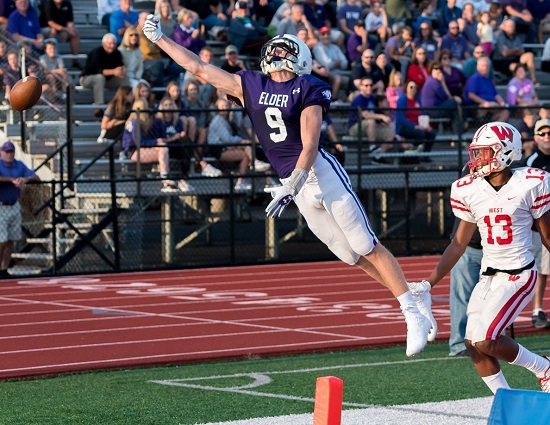 Elder TE Andrew Broxterman (photo by Justin Sheldon/TSF)
Elder was able to squeak by Lakota West, 21-7, in this non-conference season opener at Princeton High School.
If you missed the second quarter of this non-conference showdown in Week 1 then you would have missed the majority of the scoring. It took until just over nine minutes left in the second quarter until Elder opened the scoring. Elder senior quarterback Danny Niemann found senior wide receiver Danny Faillace on a four-yard touchdown pass. Niemann threw for 166 yards on 20 completions.
The Firebirds countered 16 seconds later when running back Danny Afari ran for an 80-yard touchdown run to tie the score at 7-7. Afari rushed for 119 yards for the game.
With the game all tied, Elder drove down the field prior to halftime and scored on a three-yard touchdown run by junior Michael Bittner to take a 13-7 lead after the PAT was missed. The lead was extended in the third quarter when the junior back found the endzone for the second time in the game. The two-point conversion was converted to make the score and eventual final 21-7. Bittner led the Panthers with 104 yards on 11 carries. Junior Luke Massminster led the team with 19 carries and 61 yards. Niemann had two favorite receivers in this game. Kyle Trischer had 9 catches for 79 yards and Jack O'Brien had 50 receiving yards on four receptions.
Lakota West sophomore quarterback MyJaden Horton threw for 54 yards and an interception. The Panthers held Morton to only five completions on 12 attempts.
The Firebirds defense helped keep the team stay in the game and force three turnovers. Chris Johnson, Jeremiah Ross and Hunter Anderson each had an interception to stop the Panthers.
This is the first meeting since 2015 when Elder defeated Lakota West, 34-17, at Firebird Stadium.
Elder will host Oak Hills as Lakota West will try to get a win against Centerville in its home opener.
Elder 0-13-8-0-21
Lakota West 0-7-0-0-7
E: Faillace: 4-yd rec by Niemann (Harmeyer kick)
L: Afari 80-yd run (Hjort kick)
E: Bittner 3-yd run (Kick failed)
E: Bittner 9-yd run (Massminster rush)
RECORDS: Elder (1-0); Lakota West (0-1)
UP NEXT: Elder host Oak Hills (0-1); Lakota West host Centerville (1-0)