Harrison survives the War on 74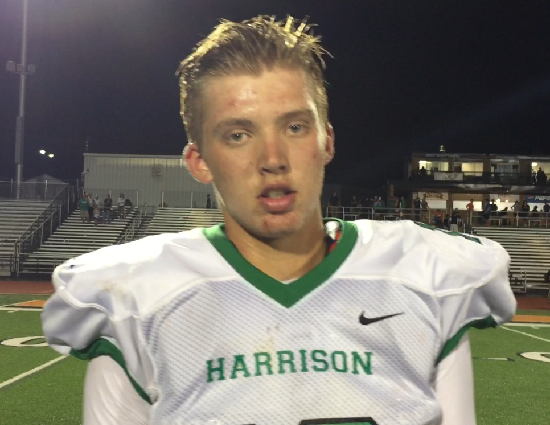 Harrison QB Frankie Young (photo by Clayton Castle)
ST. LEON, Indiana – Down 21-0 with less than nine minutes left in the game Harrison found the end zone three times in under 360 seconds to tie the game and force overtime at rival East Central in the annual "War on 74."
The Wildcats held East Central to a field goal on the first possession of overtime. Harrison answered and took home the victory when quarterback Frankie Young connected with Jace Fette on a seven-yard touchdown pass.
The win was the first for new Harrison head coach, Derek Rehage. It was extra special for Rehage who is a graduate of East Central. He is one of the very few who have ever been a player and a head coach in the War on 74.
Young, who threw 31 touchdowns as a junior picked up where left off last season. He tossed three scoring strikes including a pair to Brett Reinstatler. Young finished the evening with 236 yards passing, 52 yards rushing and he added a touchdown on the ground.
East Central running back Logan Storie had a game 167 yards rushing. The Trojans senior also added a pair of touchdowns on the ground.
Harrison 0-0-0-21-6-27
East Central 0-14-0-7-3-24
E: Brown 29 pass from Maxwell (Browndyke kick)
E: Storie 83 run (Browndyke kick)
E: Storie 4 run (Browndyke kick)
H: Reinstatler 7 pass from Young (Farfsing kick)
H: Young 6 run (Farfsing kick)
H: Reinstatler 39 pass from Young (Farfsing kick)
E: Browndyke 22 field goal
H: Fette 7 pass from Young
RECORDS: Harrison (1-0); East Central (1-1)
UP NEXT: Harrison hosts Findlay; East Central hosts La Salle (1-0)