Kings holds off Lebanon in thriller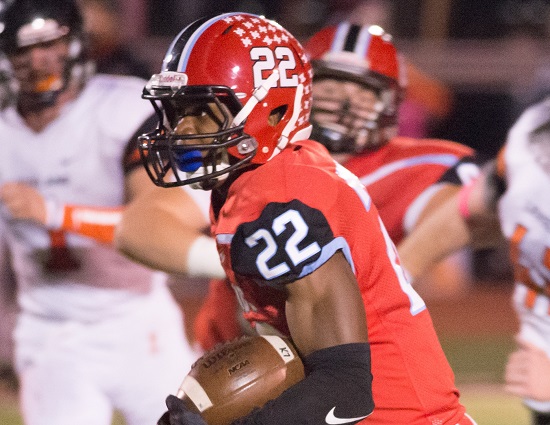 Kings RB Nak'emon Williams (ophoto by Mitchell Cooke/TSF)
Kings held on to defeat Lebanon, 38-31, in the annual season opener against the crosstown rivals.
The Knights jumped out to a 28-3 in the second quarter, but Lebanon fought back to tie the game at 31-31 with just over eight minutes left in the fourth quarter when quarterback junior Kyle Short found junior Derrick Allen on a 15-yard touchdown pass.
With just under five minutes left and the game tied at 31, Kings junior Nak'emon Williams scored on a 98-yard run to take the lead. The defense was able to stop Lebanon with just over a minute left when they stopped them on a fourth and 10 inside Kings territory to grab their first win of the season, and extend their win streak against Lebanon to four straight meetings.
Williams finished the game with 253 yards and four touchdowns. Along with the 98-yard touchdown, Williams exploded for a 68-yard touchdown run in the second quarter. This is the most yards Williams has totaled in his varsity experience. Last year he had 133 yards and 134 yards in games against Walnut Hills and Loveland in back-to-back weeks.
Kings junior quarterback Ashton Koller threw for 151 yards on eight completions and had a touchdown. Senior Tommy Bauman caught three of those passes for 86 yards and caught Koller's touchdown pass. It was a 69-yard touchdown pass in the second quarter.
Lebanon registered over 400 yards of offense in the loss. Short completed 20 passes on 41 attempts for 280 yards and two touchdowns. Allen finished with 94 yards and junior Cole McGinnis caught three passes for 89 yards. Senior Alec Koch was the recipient of Short's second touchdown pass. That came with 28 seconds left in the first half to make the score 28-10.
Kings junior Hunter Jessee was impressive on the defense as he was able to intercept two of Short's passes.
The Knights will look to start the season 2-0 with a home game against Lakota East next Friday. Lebanon will visit Loveland as both teams look for their first win.
Kings 7-21-0-9-37
Lebanon  0-10-13-8-31
K: Williams 6 run (Mitchell kick)
K: Williams 4 run (Mitchell kick)
K: Bauman 69 pass from Koller (Mitchell kick)
L: Crago 19 FG
K: Williams 68 run (Mitchell kick)
L: Koch 10 pass from Koch (Crago kick)
L: Inloes 20 run (Crago kick)
L: Ball 10 interception return (kick failed)
K: Mitchell 32 FG
L: Allen 15 pass from Short (McGinnis from Short)
K: Williams 68 run (Mitchell kick)
RECORDS: Kings (1-0); Lebanon (0-1)
NEXT GAME: Kings host Lakota East (1-0); Lebanon host Loveland (0-1)