Maxwell wills East Central past Lawrenceburg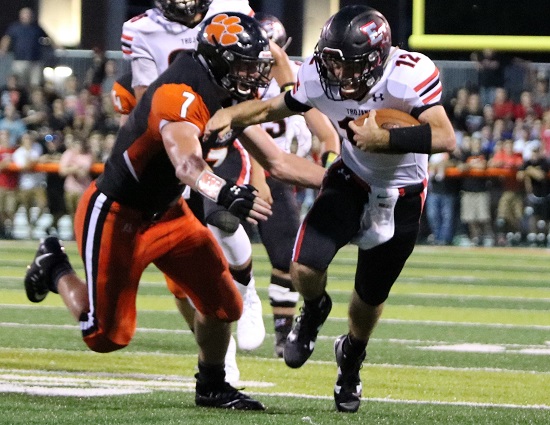 Lawrencburrg LB Mason Parris (7) & East Central QB Alex Maxwell (12) (photo by Lynda Lyness Maxwell)
LAWRENCEBURG, Indiana – The rivalry is back and after a four year hiatus East Central's thrilling 15-14 comeback win at Lawrenceburg did not disappoint a packed house at Dick Meador Stadium, Neary Field. In a game that featured just three points in the first two-and-a-half quarters, antics and heroics made this tilt an "instant classic" down the stretch.
It looked as if Lawrenceburg was in the driver seat when junior quarterback Austin Weimer scored on a seven-yard run with 6:34 left in the fourth quarter. That gave the Tigers an 11-point advantage as they put themselves in a position to pull off the upset. Weimer was the game's leading rusher with 91 yards on 24 carries. He also finished the night with 53 yards passing.
With their backs against the wall East Central and quarterback Alex Maxwell went to work. Just 44 seconds after Lawrenceburg scored Maxwell hit Logan Storie with a pass and the senior finished off the play scampering 66-yards for a touchdown. It was a refreshing sight for Trojans head coach Justin Roden who's team managed just 56 yards rushing on 28 carries in this affair.
The defenses battled but with 1:36 left in the game Maxwell snuck through a hole seven yards to paydirt. That made the score 14-13, Lawrenceburg. The contest came down to the two-point conversion attempt and Maxwell found a way to get across the goal line to seal East Central's victory. "Alex Maxwell is awesome!" Roden proudly proclaimed after the game.
On the evening, Maxwell was a very efficient 11-16 for 179 yards, had a team-high 46 yards rushing and accounted for both of the Trojans touchdowns. Storie had two receptions for 107 yards.
Lawrenceburg did just about everything right but put the larger number on the scoreboard. They won the time of possession battle by a whopping 41:26 to 18:34 margin, held a very good runner in Storie in check and showed they are going to be a force in the trenches. Despite the loss there is plenty to build upon.
Next Friday East Central hosts Harrison (0-0) in the annual "War on 74." Lawrenceburg travels up the road for the "Route 50 Rumble" with Taylor (0-0).
Postgame Interview: Justin Roden –  http://bit.ly/2x0vA6A
East Central  0-3-0-12-15
Lawrenceburg 0-0-7-7-14
E: Browndyke 20 field goal
L: Privett 1 run (Seig kick)
L: Weimer 7 run (Seig kick)
E: Storie 66 pass from Maxwell (run failed)
E: Maxwell 7 run (Maxwell run)
Records: East Central (1-0); Lawrenceburg (0-1)