Mayer marvelous in CovCath's rout of Ryle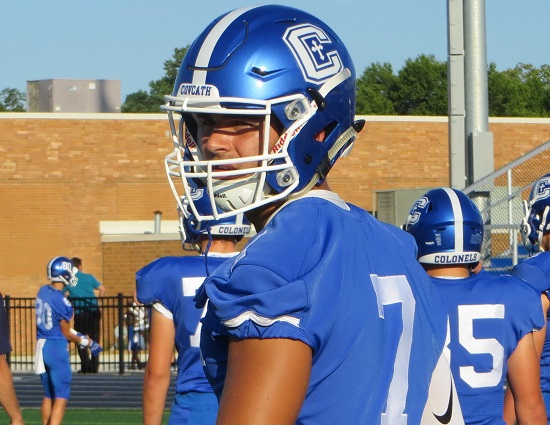 Covington Catholic QB AJ Mayer (photo by Greg Shoemaker/TSF)
PARK HILLS, Kentucky – On historic night where Covington Catholic hosted its first ever opener under the lights, with a stadium dedication on its 50th anniversary of football it was quarterback AJ Mayer who stole the show. The contested featured TriStateFootball.com's Northern Kentucky's Preseason No. 1 Ryle at the No. 2 Colonels and the home team made quite a statement.
Things started off great for Ryle as quarterback Jake Smith hit running back Jake Chisolm on a screen pass that went 75 yards for touchdown on the first play from scrimmage.  It was the lone highlight for the Raiders in the first half.
The Miami (OH)-bound Mayer went to work after that. Over the last 17 minutes of the first half senior led the Colonels on six touchdown drives and 42 unanswered points. In that span he found the end zone twice rushing and had pin-point, dagger-piercing scoring strikes to three different receivers. Three of those scoring drives lasted just one play, a fourth was just beyond the finger tips of being one snap and another touchdown lasted just 0:44 seconds.
While all that was going on the CovCath defense made life miserable for Smith who threw two interceptions leading to short field scores for the Colonels before intermission. The performance was extremely encouraging to head coach Eddie Eviston being that Covington Catholic gave up more than 500 yards of total offense in losses to Ryle the past two years. Take away the two long touchdowns by the Raiders (one of which was allowed by the second team) the unit allowed just 129 yards on 45 plays in the victory.
Mayer finished the night with 267 yards passing and accounted for five touchdowns. Sam Schuh led CovCath with four receptions for 74 yards and Casey McGinness paced the club with 60 yards on the ground.
Covington Catholic is at Lexington Catholic next Friday night. Ryle will look to regroup next weekend at Henry Clay.
Postgame Interview: AJ Mayer – http://bit.ly/2v0KjwO
Ryle 7-0-7-3-17
Covington Catholic 14-28-7-0-49
R: Chisolm 75 pass from Smith (Molique kick)
C: AJ Mayer 17 run (Gronette kick)
C: Christmann 48 pass from AJ Mayer (Gronette kick)
C: AJ Mayer 1 run (Gronette kick)
C: M Mayer 4 pass from AJ Mayer (Gronette kick)
C: Coldiron 26 pass from AJ Mayer (Gronette kick)
C: Shriver 37 run (Gronette kick)
R: England 84 run (Molique kick)
R: Molique 27 field goal
Records: Covington Catholic (1-0); Ryle (0-1)