Centerville stays perfect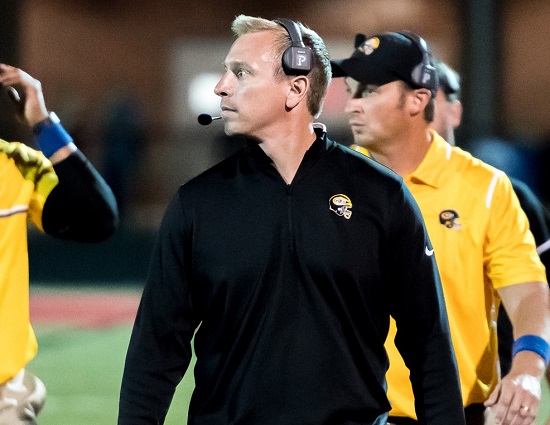 Centerville head coach Brent Ullery (photo by Justin Sheldon/TSF)
On a rainy Friday night, Centerville won its second straight road game, 42-21, against Lakota West.
This was the Elks second win against a GMC opponent after defeating Fairfield last week.
Early on in the game it was the special teams of Centerville that was the factor in the outcome of this game.
In the first quarter Centerville opened the scoring when Max Wynn blocked a punt, and Riley Poulton returned it for a touchdown. That was followed up with a 55-yard punt return in the second quarter by senior Donovan Shelton.
The Firebirds narrowed the gap to 14-7 with seven minutes left in the second quarter when sophomore David Afari scored on a 1-yard run. But on ensuing kickoff Shelton did it again. He took the kickoff 96 yards to extend the lead 21-7.
Centerville's first offensive touchdown did not come until close to halftime when senior quarterback Alec Grandin scored on a 1-yard touchdown run to take a 28-7 halftime lead.
The Elks continued the offensive surge in the second half when Grandin found senior Riley Poulton on a 40-yard touchdown completion. This was Poulton's first touchdown of the season.
Grandin finished the game with 120 yards passing, and 38 rushing yards to go along with his two touchdowns
On the Elk's next possession, senior Cody Smith scored on a 2 -yard run with just over eight minutes left in the third quarter.
The Firebirds scored two touchdowns in the fourth quarter when sophomore quarterback Myjaden Horton ran for a 15-yard score, and junior Jalen Swanson scored with a 2-yard run with one second left.
Afari finished the game with 106 rushing yards. This was his second straight 100-yard game after 119 rushing yards against Elder last week.
Next week Centerville will have its home opener against Pickerington North, and Lakota West will host Fairfield in its conference opener.