Centerville wins battle of unbeatens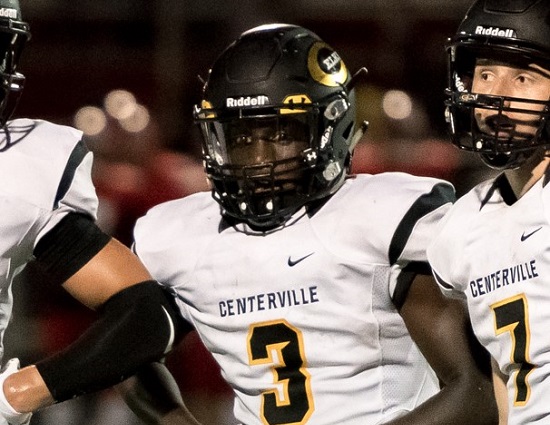 Senior quarterback Alec Grandin and Centerville cruise to a 24-12 win over Springfield Friday night at Springfield.
The Elks had control of this game from the opening kickoff in this battle of unbeatens. They opened the scoring when Grandin found Donovan Shelton on a 36-yard touchdown just under one-minute left in the first quarter.
Junior Brandon Walter added a field goal mid-second quarter to extend the Elks lead to 10 points, and that was followed up by Grandin's second touchdown with just under two minutes left in the half.  Grandin connected with senior Jake Spiewak on a 58-yard touchdown pass to take a 17-0 lead into halftime. Spiewak had eight receptions for 110 yards to go along with the touchdown.
Springfield was able to get on the board with just under three minutes when sophomore Tavion Smoot ran in the endzone on a 25-yard run. The kick failed so the Wildcats trailed 17-6 to end the third quarter. Smoot led the game in rushing with 59 yards.
That was as close at the Wildcats would get to the undefeated Elks. Centerville sealed the win when Grandin threw a 28-yard pass to junior JR Melzer at the start of the fourth quarter to give them a three- touchdown lead. This was Grandin's third touchdown of the night.
The Centerville defense was able to hold senior Leonard Taylor to only 161 passing yards on 32 attempts, and 59 yards. Half of those receptions went to senior Caleb Johnson, who finished with 95 yards.
This was the first time Taylor was held scoreless in a game this season. Taylor is regarded as one of the best players in the state, and has offers from Notre Dame, Louisville, Cincinnati, Michigan State and Ohio State after de-committing from Michigan last year.
Centerville has outscored its opponents, 123-82, during the four-game win streak. The Elks will play at home next Friday night against Springboro. Springfield will play at Lebanon. The Indians lost to Beavercreek.
Centerville 7-10-0-7-24
Springfield 0-0-6-6-12
C: Grandin 36-yd pass to Shelton
C: Walters 32-yd FG
C: Grandin 58-yd pass to Spiewak
S: Smoot 25-yd run
C: Grandin 28-yd pass to Melzer
S: Smoot 4-yd run
RECORDS: Centerville (4-0), Sprinfield (3-1)
UP NEXT: Centerville hosts Springboro (1-3); Springfield at Lebanon (2-2)