Taft's tenacity prevails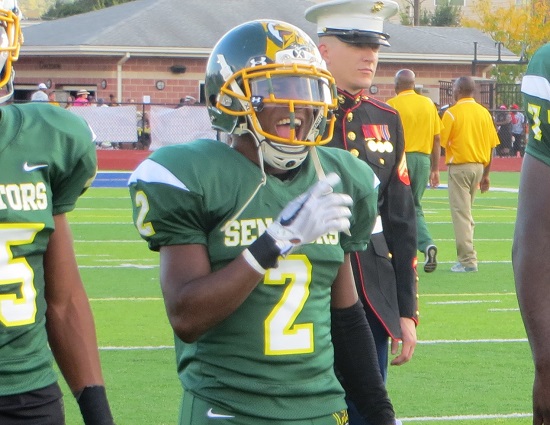 CINCINNATI, ohio – It was a night where opportunities were taken advantage but just as many were squandered for both teams. In an affair that tested mental toughness and intestinal fortitude. It was Taft that made the plays down the stretch knocking Aiken from the ranks of the unbeaten.
Taft went into halftime with a 12-8 lead behind special teams play and takeaways. Derrian Anderson recovered a fumble punt on the Falcons 10-yard line. Recold Moore would take the ball in from seven yards out for the team's first score.
In the second quarter Taft came up with one of its two first half interception thwarting a Falcons drive at the Senators 30-yard line.  Taft marched downfield and quarterback Cleveland Farmer gave the Senators their first lead on a one yard run.
The night had started out promising for Aiken as senior quarterback Tim Williams, the reigning SOPL Offensive Player of the Year was making it look easy early on. He hit Kievaughn Sanks with a pair of bombs including a 27-yard touchdown to open up the scoring. The rest of the half wasn't as nice to Williams who threw his second interception with under a minute to play. It ended a Falcons drive as Taft junior Demarco Bradley returned the pick from eight yards deep its own end zone to the 33-yard line. All of that action came after the Senators fumbled at midfield with 1:26 left before break.
The third quarter sort of stagnated. Aiken let another drive inside Taft territory slip away on another lost fumble. The Falcons found life at the end of the stanza. Sanks hit Williams on halfback pass down to the Senators four-yard line to end the third quarter. Aiken punched it in from there to retake the lead less than a minute into the fourth quarter.
One player who made the most of his chances was Sanks who came up with a drive killing interception and the Falcons were back in business. Sanks had an interception and fumble recovery on defense while coming up with big play after big play for the Aiken offense on this evening. He was simply spectacular.
The special teams came up big once again for Taft blocking a Falcons punt and recovering at their own 45 with 7:41 left in the contest. That was a huge momentum swing. Less than two-and-a-half minutes later. Farmer moved the Senators downfield for what would be the game winning score. The defense then held Taft and the rest of the game became a journal entry.
Aiken 8-0-0-8-16
Taft 6-6-0-8-20
A: Sanks 27 pass from Williams (Williams pass to Powell)
T: Moore 7 run (pass failed)
T: Farmer 1 run (run failed)
A:  (conversion good)
T: Farmer run (Farmer run)
RECORDS: Aiken (3-1, 0-1); Taft (2-2, 1-0)
UP NEXT: Aiken hosts Dunbar (3-1, 1-0) on Saturday night; Taft is at Shroder (1-3, 0-1)