Covington Catholic Rolls in Northern Cincinnati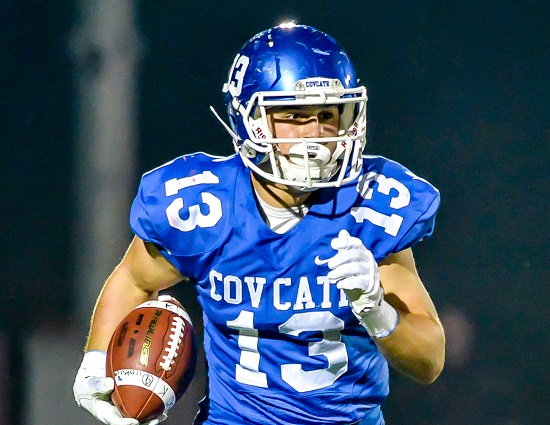 Covington Catholic comes to northern Cincinnati and leaves with a 35-14 win over Kings High School.
The Colonels remained undefeated as the offense continued to play impressive football. This was the lowest amount of points scored in a game this season after scoring 40-plus in the first three games.
Quickly the Colonels jumped out to a 14-0 lead in the second quarter after senior quarterback A.J. Mayer threw his second touchdown in the game.
Kings drove the ball down the field and junior Jake Stylski ran in for a 2-yard score to narrow the deficit to 14-7. But before the half, Covington Catholic scored again when Mayer found the endzone on a 1-yard run to take a 21-7 halftime lead.
In the third quarter, junior receiver Jacob Elam caught an 11-yard pass in the endzone from junior Ashton Koller to make it only a 7-point differential, but Covington Catholic was just too much for the Knights. The Colonels scored two unanswered touchdowns by junior running back Casey McGinness, and Mayer found senior Luke Lenihan on a 45-yard touchdown pass for his third passing touchdown in the game to extend the score 35-14.
Mayer threw for 262 yards to go with his three passing touchdowns, and one on the ground. In the first four games, Mayer has thrown for at least two touchdowns.
McGinness led the Colonels with 94 yards on 19 carries. Junior Jack Coldiron had five receptions for 84 yards and a score. The Colonels gained 428 yards against the Kings defense.
The Kings managed to have success in the running game as the team combined for 146 yards. Junior Nak' emon Williams led the team with 16 carries for 53 yards. Koller was second on the team with 43 yards.
This is one of the most yards allowed by the Colonels as they have dominated their first four opponents. The defense has only allowed 33 points in the first four games. The 14 points by Kings is the second most behind the 17 they allowed against Ryle in the first week. The defensive line was able to put pressure on Koller as sophomore lineman Michael Mayer sacked Koller twice.
The defense is also forcing turnovers as Tanner Bayer intercepted a pass for the second straight week. They have won the turnover battle in each of their games.
This was the Knights second straight loss after defeating Lebanon in Week One. The defense has allowed at least 30 points in each of their games. They finished non-conference play with a 1-2 record, and will start conference play next Friday at Anderson. The Redskins are off to one of their best starts in years as they are undefeated, and only allowed three points in the last two weeks.
Covington Catholic will look to continue the winning streak when they go to Beechwood for their second straight road contest.
RECORDS: Covington Catholic (4-0), Kings (1-2)
UP NEXT: Covington Catholic at Beechwood (3-0); Kings at Anderson (3-0)
Covington Catholic    7 14 7 7
Kings                             0  7 7 0
Cov Catholic: Mayer: 7-yd pass to Malachi
Cov Catholiv: Mayer: 44-yd pass to Coldiron
Kings: Stylski 2-yd run
Cov Catholic: Mayer 1-yd run
Kings: Koller: 11-yd pass to Elam
Cov Catholic: McGinness 1-yd run
Cov Catholic: Mayer: 45-yd pass to Lenihan