Fairfield Edges Lakota West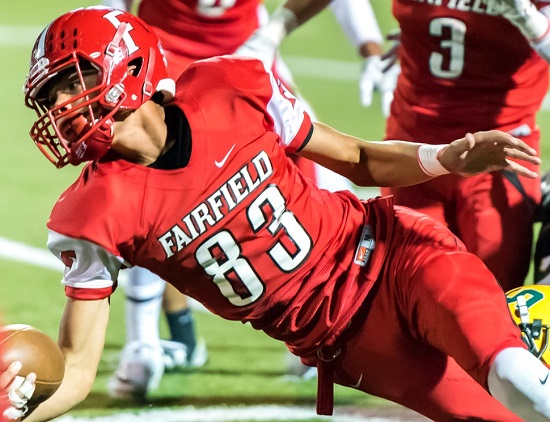 Fairfield defeats Lakota West, 10-3, to win its first game of the season.
Both GMC teams came into the game looking for their first win, and the Fairfield defense was able minimize the Firebirds offensive production.
Lakota West took a 3-0 lead into halftime, but Fairfield fought back and scored the only touchdown of the night in the third quarter. Junior Jeff Tyus connected with junior Erick All on a 25-yard touchdown reception to take a 7-3 lead with just under 10 minutes left in the quarter. All managed only two receptions in the game for 47 yards.
Fairfield extended the lead with just over seven minutes left in the game with a Nick Maddy field goal to give the Indians a touchdown lead.
Lakota West was driving late in the game, but Fairfield managed to stop them despite extending the drive on a roughing the passer penalty on fourth down.
The Fairfield defense held Lakota West to only 140 yards. University of Cincinnati commit Malik Vann had an important sack, and junior Peyton Brown forced a fumble. Lakota West sophomore David Afari was held to 18 yards after 106 yards a week ago. Sophomore quarterback MyJaden Horton completed nine passes for 70 yards and 24 yards rushing.
Fairfield tallied 111 rushing yards with sophomore Juthan McClain leading the team with 56 of those.
This is the second straight season Lakota West started 0-3. Last season the Firebirds started 0-6 before defeating Oak Hills, which happens to be their opponent next week.
RECORDS: Fairfield (1-2), Lakota West (0-3)
UP NEXT: Fairfield hosts Lakota East (3-0); Lakota West at Oak Hills (0-3)
Fairfield       0 0 7 3
Lakota West 0 3 0 0
Lakota West: Hjort 25-yd FG
Fairfield: Tyus: 29-yd pass to All
Fairfield: Maddy 26-yd FG