Kings Shuts Down Turpin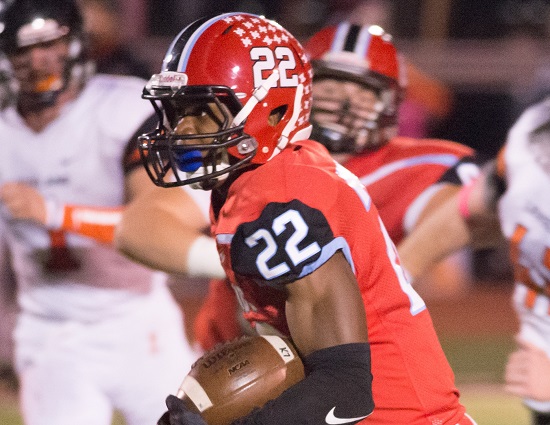 Kings shuts down Turpin, 35-7 Friday at Kings High School.
Junior wide receiver Hunter Jessee became familiar with the endzone on this Homecoming night for the Kings. Senior quarterback Ashton Koller found Jessee on a 28-yard touchdown pass in the first quarter, and then again in the fourth quarter to extend the lead to 28-0. Jessee finished the night with 61 yards on four catches.
The Kings offense was able to produce 443 yards, which 317 yards were on ground. Junior Nak'emon Williams and senior Justin Wise both had over 100 yards rushing. Williams had 173 yards on 30 carries with a 2-yard touchdown in the third quarter. Wise only had eight carries but totaled 104 yards, which 58 of those yards came on a touchdown run in the fourth quarter.
Kings leads the conference with just over 249 rushing yards per game. Williams leads the conference with 894 yards.
The defense allowed only 195 yards, including 63 rushing yards, in the win after struggling the last four weeks. Coming into the week, Kings have lost four-straight since opening week win against rival Lebanon. Last week the Knights lost to West Clermont on a game-winning touchdown with just over a minute left.
This week the defense made sure that would not happen again. Turpin was only allowed nine first downs and a 2-for-13 on third down conversions. Turpin struggled to move the ball until the fourth quarter when senior Justin Silverstein scored on a 50-yard pass from senior quarterback Lucas Smith.
This win was redemption for Kings after losing to Turpin, 27-7, last season.
Next week Kings will play a Milford team that has won its last three games, including a 37-0 win against Walnut Hills on Friday night. Milford has only allowed two touchdowns during the streak.
RECORDS: Turpin (2-4), Kings (2-4)
UP NEXT: Turpin visits Withrow (1-5), Kings at Milford (5-1)
Kings: Koller: 29-yd pass to Jessee
Kings: Hicks 3-yd run
Kings: Williams: 2-yd run
Kings: Koller: 18-yd pass to Jessee
Turpin: Smith: 50-yd pass to Silverstein
Kings: Wise 58-yd run