Lebanon Rolls At Home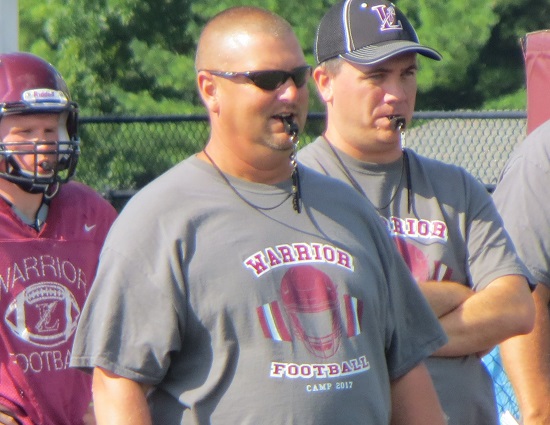 Lebanon defeats Fenwick, 49-27, to win its second straight game behind the combination of both great offensive and defensive play.
The Warriors managed to score 21 points in the first quarter. On the opening kickoff, Derrick Allen went 85 yards for the score, and then followed that up on their next possession with a six-yard touchdown run by sophomore Brendan Lamb.
Fenwick answered when junior Sully Janeck connected with fellow junior Thomas Vogelsong on a 31-yard score to make the score 14-6 after the missed PAT.
With the help of Allen again, Lebanon extended the lead 21-6, when Kyle Short connected with Allen on a 22-yard strike.
Fenwick scored two unanswered touchdowns at the end of the first and second quarters and managed to get within one point, but Lebanon dominated the second half outscoring Fenwick 21-7.
Allen finished the game with 152 yards and three touchdowns, including the kickoff return. Short went 10-for-17, 196 yards and three touchdowns.
The defense was very impressive as they forced five turnovers. Blake Justice and Caleb Newman each recovered fumbles, and Jake Tewart had two interceptions, and Michael Haddad had one.
This was Lebanon's last non-conference game before playing its first GWOC game next Friday at Beavercreek.
This is Fenwick's second straight defeat. Fenwick was able to move the football on the ground as the team combined for 176 yards. Fenwick running back Keegan Corbett rushed for 149 yards and a touchdown. Caleb Davis was second on the team with 49 yards and a score.
RECORDS: Fenwick (1-2), Lebanon (2-1)
UP NEXT: Fenwick at Chaminade Julienne (1-2); Lebanon at Beavercreek (3-0)
Fenwick 12 8 0 7
Lebanon 21 7 14 7
Lebanon: Allen 85-yd KO return
Lebanon: Lamb 6-yd run
Fenwick: Janeck 31-yd pass to Vogelsong
Lebanon: Short: 22-yd pass to Allen
Fenwick: Corbett 1-yd run
Fenwick: Janeck 2-yd run
Lebanon: Short: 25-yd pass to Allen
Lebanon: Short: 31-yd pass to Koch
Lebanon: Inloes 1-yd run
Lebanon: Marsh 14-yd run
Fenwick: Davis 1-yd run