Northern Kentucky Round-Up Week 3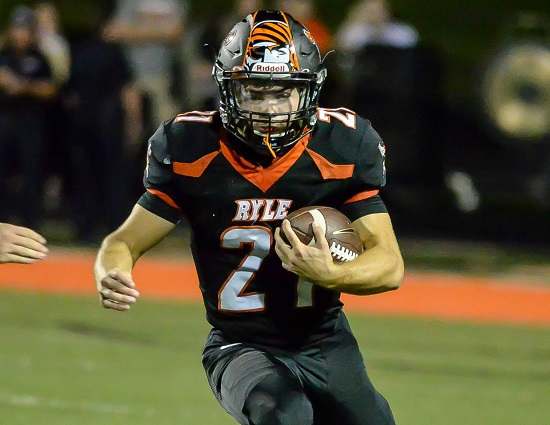 Week 3 is in the books and for some teams in Northern Kentucky that means they are 40 percent through their regular-season slate. Here's a look back at how the teams ranked in our NKY Team Rankings fared on Friday night:
No. 1 CovCath 35, Kings 14
CovCath continued their hot start to 2017 by coming up with a 21-point win in an interstate battle at Kings. The top-ranked Colonels continued to prove they deserve the honor. AJ Mayer led the charge on offense throwing for 262 yards and accounting for four total touchdowns. Next week they take on Beechwood, who is currently ranked number four in the the NKY Team Rankings…COMPLETE RECAP
No. 2 Simon Kenton 59, Dixie Heights 21
It was the first home game Friday for the Simon Kenton Pioneers and they did not disappoint the home crowd. The last three weeks they've proven on the road they can't be stopped. The Pioneers proved to be too much to handle for Dixie as they raced out to a 35-0 first-quarter lead behind three TD passes from Matt Scherer and they never looked back. Simon Kenton rolls on to 4-0 on the season.
No. 3 Ryle 49, No. 6 Highlands 27
Ryle came out very strong against Highlands on Friday night in Ft. Thomas. The Raiders' offense rallied behind their workhorse Jake Chisholm, who ran all over the Bluebirds' defense with 281 rushing yards and five touchdowns. Quarterback Easton Pilyer added 142 yards on 10 carries and completed 12-of-16 passes for 118 yards and a score in the win. Ryle improves to 3-1 on the season as they picked up their third straight win.
No. 4 Beechwood 36 Corbin 29
It was a very close game for the Beechwood Tigers as they edged past Corbin. Corbin was up 21-20 in third quarter, but Beechwood's offense pulled away and got the win by outscoring their opponents 16-0 in the second half. Quarterback Brayden Burch passed for 231 yards and three touchdowns in the victory. The Tigers improve to 4-0 on the season and will face off against CovCath next Friday night.
No. 5 Conner 47, Scott 27
The Cougars offense came out strong this week versus the Scott Eagles, putting up 47 points in the win. . Conner improves to 2-1 after losing to Simon Kenton last week. Tervor Courts led Conner with 163 rushing yards and two touchdowns. Next week the Cougars will be looking forward to playing Dixie Heights as they'll look to improve on all sides of the ball.
No. 7 Campbell County 47, Cooper 27
Campbell County rolled over the Cooper with their rushing attack in this game. Alex Downs had 121 yards rushing and three touchdowns in the first half. Cooper couldn't do much against that Camels' defense and they haven't won a game yet this season. Campbell County faces the Ryle Raiders next Friday which should be a very interesting matchup in Northern Kentucky…COMPLETE RECAP
Belfry 54, No. 8 NewCath 29
NewCath could not put up the points they needed to beat Belfry as they could only manage 29 points. NCC signal caller Paul Kremer passed for 213 yards and four touchdowns in the loss. NewCath's record now sits at 2-2 on the season, but they've still got a lot of football left and they must look toward next week as they face Louisville Christian Academy.