Team of the Week: Week 3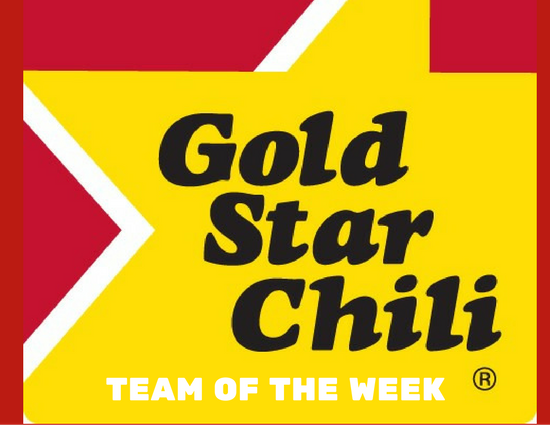 Gold Star Chili and TriStateFootball.com are partnering once this year to present the High School Football Team of the Week during the 2017 regular season. Each week 8-10 schools will be nominated from the Greater Cincinnati area to be included in an online voting poll to determine a winner.
The voting is open now until Thursday night at 6PM Eastern. Voters can vote once per hour, per IP address.
Once a team has won, they were ineligible to be nominated a second time. All of the winning teams will receive a trophy to be presented at their school by Gold Star Chili.
Taking advantage of the TSF-only deal at Gold Star this week:
Free Cheese Coney with the purchase of a regular 3,4 or 5-Way
Expires: 9/24/17  – PRINT COUPON
Here are this week's nominations:
Aiken (3-0)
The Falcons are clicking on all cylinders and are off to a 3-0 start after taking down North College Hill, 66-6.
Bellevue (3-1)
Bellevue beat St. Bernard 46-14 on Friday night to pick up their third straight victory.
Bethel-Tate (3-0)
Bethel-Tate passed a nice test by knocking off Purcell-Marian in a 21-20 thriller.
Edgewood (2-1)
The Cougars doubled up Badin, 28-14, in a Saturday night victory on the road.
Lawrenceburg (3-1)
Lawrenceburg took down Greensburg in an EIAC affair to grab their third win in a row.
Miamisburg (3-0)
Loveland was the latest non-conference foe to fall to the Vikings. Miamisburg dominated in a 41-6 win.
Moeller (3-0)
The Crusaders knocked off a tough Scott County team on a trip south to the Bluegrass State, 38-28.
Ryle (3-1)
With a 49-27 Week 3 victory at Highlands, the Raiders are now riding a three-game winning streak.
Sycamore (3-0)
The Aviators remain undefeated after opening up GMC play by taking down Mason, 21-7.
Walton-Verona (3-1)
Walton-Verona pitched its second straight shutout as the blanked Holy Cross, 56-0.
[polldaddy poll="9826897″]
You can send your weekly nominations to us on twitter @TSFootball or by email.