TSF Player of the Week: Week 3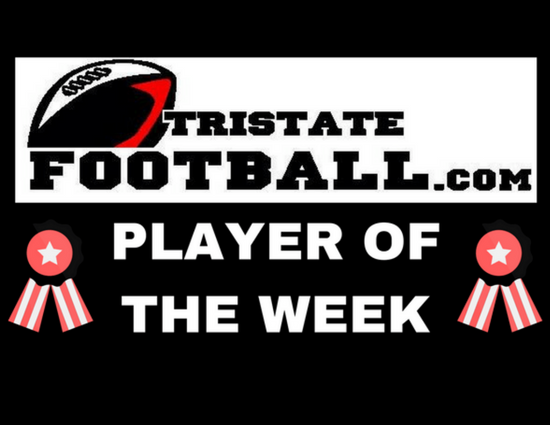 TriStateFootball.com is proud to once again present its Player of the Week for the 2017 regular season. Players were nominated from the Cincinnati, Dayton, Northern Kentucky and Eastern Indiana areas.
Each week a small group of nominees will be selected from a large list of some of the area's top performances and will be included in an online voting poll to determine a winner. The poll will launch weekly on Sundays. Voters can vote once per hour, per IP address through Thursday night at 6PM E.T weekly.
Once a player won, they will be ineligible to be nominated a second time. All of the season winners will be recognized and receive a plaque at the TriStateFootball.com Year in Review Show in February (more details announced during postseason).
Here are this week's nominations…
Derrick Allen, Lebanon, WR – Had six receptions for 152 yards with two touchdowns and also returned a kickoff 85 yards to the house as the Warriors foiled Fenwick.
DJ Ames, Wilmington RB – Racked up 328 yards from scrimmage (249 rushing, 80 receiving) and scored three touchdowns (two rushing, one receiving) as Wilmington bested Butler.
John Bivens III, Alter, RB – Racked up 258 all-purpose yards (149 rushing) on 19 touches and scored on a reception and 91-yard kickoff return as Alter beat Xenia.
Isaiah Bowser, Sidney, RB – Carried the ball 26 times for 304 yards found the end zone three times as Sidney crushed Carroll.
Daniel Cascella, Mariemont, RB – Had 166 all-purpose yards and four rushing touchdowns as the Warriors shutout Shroder.
DJ Chambers, Carlisle, WR – Amassed 311 all-purpose yards, had four receptions for 78 yards and found the end zone three times (one receiving, two kickoff returns) as the Indians won a 43-41 thriller over Oakwood.
Dae'Mon Cherry, Northwest, QB – Accounted for four touchdowns (two passing, two rushing) and 262 yards of total offense (194 passing, 68 rushing) as the Knights ousted Withrow.
Jake Chisolm, Ryle, RB – Ate up 339 all-purpose yards of which 256 were on the ground while finding the end zone five times in the Raiders victory over Highlands.
Jesse Deglow, Fairmont, RB – Was a workhorse the Firebirds carrying the ball 33 times for 161 yards and four touchdowns as Fairmont improved to 3-0 after taking out Milford.
Bryce Donnelly, Bishop Brossart, WR – Had three receptions for 163 yards and a pair of scores as the Mustangs held off Newport.
Alex Dowds, Campbell County, RB – Ran for 121 yards and scored three first half touchdowns as the Camels came up with a win at Cooper.
Griffen Durso, Turpin, DB – Had 35-yard interception return for a score and scooped up a punt for a 12-yard touchdown as the Spartans picked up their first win of the year.
Trey Heidlage, Batesville, QB – Accounted for six touchdowns (five passing, one rushing) and amassed 451 yards of total offense (379 passing, 72 rushing) as the Bulldogs trounced Rushville.
Miles Johnson, Northmont, QB – Threw for 359 yards and four touchdowns as the Thunderbolts beat Tippecanoe.
Chandler Kinhalt, New Richmond, WR – Reeled in six receptions for 111 yards and three touchdowns as the Lions marched past Monroe.
Gunnar Leyendecker, Colerain, QB – For of his six completions went for touchdowns to go along with 97 yards passing and 89 rushing as the Cardinals mashed Middletown.
Kenny Mayberry, Winton Woods, QB – Threw for 317 yards with a pair of scoring strikes as the Warriors beat Springboro.
AJ Mayer, Covington Catholic, QB – Threw for 262 yards and accounted for four touchdowns (three passing, one receiving) as the Colonels cruised past Kings.
Miles McBride, Moeller, QB – Went 14-18 for 240 yards with four touchdowns passes and also had 11 carries for 118 yards in the Crusaders win at Scott County.
Ryan Montgomery, Franklin, RB – Scored all three of the Wildcats touchdowns and amassed 251 all-purpose yards (152 rushing) in a huge win at Piqua.
Jake Paulsen, Edgewood, RB/LB – Ran for 130 yards on 15 carries with three rushing touchdowns as the Cougars staved off Badin.
Evan Prater, Wyoming, QB – Came up big with 319 yards of total offense (185 passing, 134 rushing) and accounted for three scores (two passing, one rushing) as the Cowboys got a road win at CHCA.
Matt Simpson, Conner, ATH – Was a special teams standout averaging 37 yards on three punts, had an 85-yard kickoff return for a touchdown and also was in on six total tackles with and interception as the Cougars scorched Scott.
Logan Storie, East Central, RB – Churned out 222 yards rushing on 24 caries with three rushing touchdowns as the Trojans won a wild one over rival Franklin County.
Jay Volpenhein, Anderson, QB – Threw for 425 yards and five touchdowns as the Redskins routed Harrison, 45-3.
Seth Yunker, Dayton Christian, LB – Was in on 15 total tackles (nine solo), had three tackles for losses, one-and-a-half sacks and recovered three fumbles as the Warriors outlasted Ponitz.
[polldaddy poll="9827025″]
You can send your weekly nominations to us on twitter @TSFootball or by email.