VOTE: Player of the Week – Week 4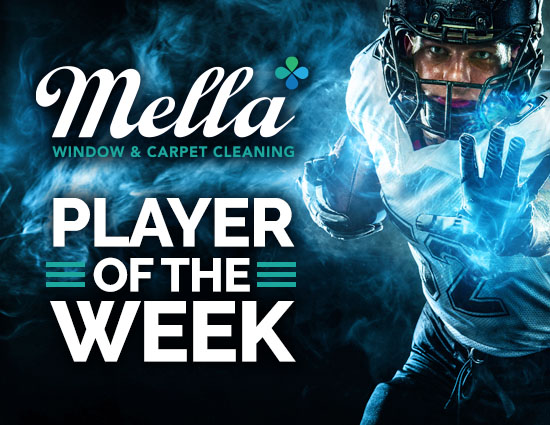 TriStateFootball.com is proud to present the Mella Window & Carpet Cleaning Player of the Week for the 2021 regular season. Players will be nominated from the Cincinnati, Northern Kentucky and Eastern Indiana areas throughout the season.
Each week a group of nominees will be selected from a large list of some of the area's top performances and will be included in an online voting poll to determine a winner. The poll will launch weekly on Sundays. Voters can vote once per hour, per IP address (we track it on the back end so cheating will result in votes being voided) through Wednesday at 12:00 PM Eastern weekly.
Once a player has won, they are ineligible to be nominated a second time. Players can only be nominated up to a max of three times during the course of the season.
All of the season winners will be recognized and receive a plaque at the TriStateFootball.com Year in Review Show in February of 2022 (more details announced once season concludes).
+++
Win FREE tickets from our friends at Mella Window & Carpet Cleaning:
+++
Luca Aquilino, Loveland, Sr, QB – Accounted for seven touchdowns (four pass, three rush), threw for 201 yards and ran for 40 more as the Tigers trounced West Clermont, 49-20, for their first ECC win since 2018.
Nathan Blank, Harrison, Sr, WR/DB – Had six receptions for 161 yards and two scores including the game winner with 0:03 seconds left as the Wildcats eked past Trotwood-Madison, 29-28.
Reagen Brown, Franklin, Jr, RB/DB – Returned an interception 77 yards for the game's only score as the Wildcats shutout Carlisle, 7-0.
Tayquan Calloway, Holmes, Sr, RB – Carried the ball 16 times for 140 yards and a touchdown as the Bulldogs bested Newport, 38-8.
Xavier Campbell, Beechwood, So, DL – Registered three sacks in the Tigers 49-21 trouncing of Simon Kenton.
Quentin Collins, Western Brown, Jr, DB – Tallied five solo tackles and snared two interceptions as the Broncos knocked off Jackson, 33-28.
Cam Cope, La Salle, Sr, QB/DB – Had touchdowns runs of 81 and 35 yards and a touchdown pass of 36 yards, all in the second half, to break open a Lancers 48-21 win at Louisville Trinity.
Trey Cornist, Mount Healthy, Jr, RB – On just 13 carries Cornist ran for 150 yards and four touchdowns in the Owls shutout of Thurgood Marshall, 34-0.
Jaquan Dailey, Edgewood, Sr, RB – Ran for 118 yards on 17 totes and four touchdowns in the Cougars 34-14 win over Fenwick.
Keyontrez Devaughn, Hughes, Sr, RB/LB – Found the end zone on a fumble recovery, a rush, a 60-yard reception, with 100 yards on the ground and five solo tackles in a Big Red 56-19 victory against Dayton Christian.
MJ Flowers, Colerain, Sr, RB – Carried the ball 13 times for 206 yards and three touchdowns as the Cardinals soared past Sycamore, 33-13.
Van George, Moeller, So, QB – Went 17-22 for 268 yards and three touchdown tosses in his first varsity start as the Crusaders crunched Ironton, 25-7.
CJ Hester, Wyoming, Jr, RB/LB – Churned out 230 yards and three touchdowns on the ground and had a scoop-and-score for the Cowboys defense in their 30-0 shutout over rival Indian Hill.
Will Kocher, Kings, Jr, QB – Aired it out for a career-high 434 yards and five touchdowns as the Knights outlasted the Raptors, 35-28.
Tofa Luani, Milford, So, RB/LB – Dominated on both sides of the ball with six total tackles, two sacks, a fumble recovery, 145 yards and three touchdowns rushing as the Eagles edged Turpin, 20-13.
Michael Molnar, Mason, Jr, QB – Threw for 83 yards, ran for 96 yards and accounted for four touchdowns (three rush, one pass) in the Comets 40-7 victory over Middletown.
Darrion Montgomery, Northwest, Sr, QB – Ran past Carroll with 272 yards and three touchdowns on 16 totes in the Knights 48-14 win.
TJ Nelson, Walnut Hills, So, QB – Threw for 201 yards, ran for 61 yards and accounted for three touchdowns (two rush, one rec) as the Eagles got by Little Miami, 27-21.
CJ Rogers, South Dearborn, Sr, RB – Rushed for school's single-game record 326 yards on 13 carries and scored five times in a 55-8 win over Connersville.
Ryan Peter, Norwood, Sr, QB – Had a special night with six touchdowns and 281 yards passing in the Indians 49-20 ambush of Batavia.
Skylar Sears, Boone County, Sr, DB – Snared three interceptions in the Rebels 26-6 triumph over Lloyd.
Max Tepe, Mariemont, Sr, RB/DB – Ran for 193 yards, amassed 253 all-purpose yards, found the end zone twice (one rush, one rec), recorded 18 total tackles and had an interception as the Warriors romped Madeira, 31-7.
RB Alijah Thompson, Conner, Jr, RB – Posted 150 yards and four touchdowns rushing as the Cougars roared past Scott, 28-3.
*Nominate players weekly by emailing us at staff@tristatefootball.com by 9AM Sunday mornings.