Dowds carries the Camels past Cooper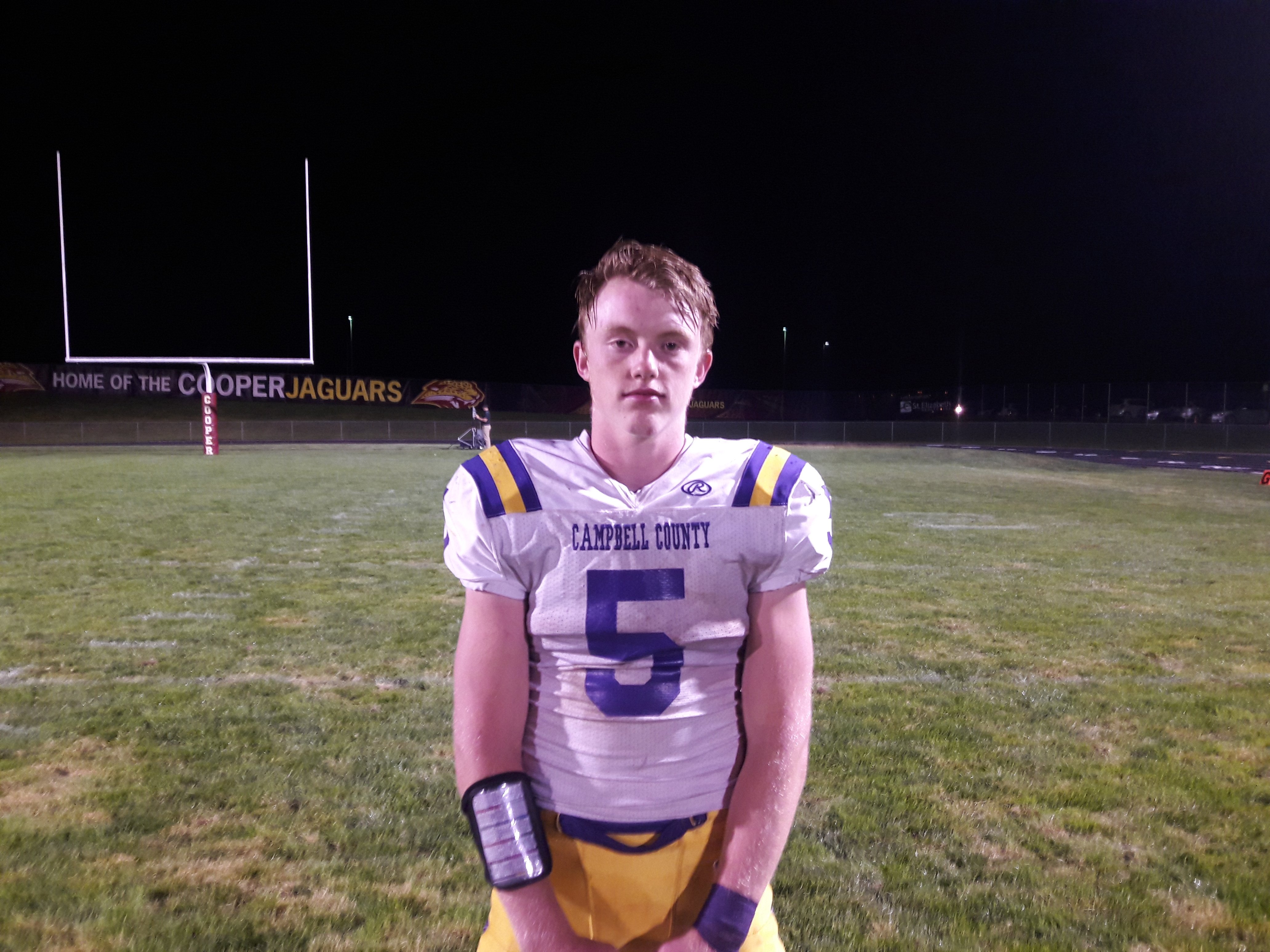 Union, KY – The Campbell County Camels ran away from the Cooper Jaguars Friday night at Cooper High School 47 – 27.
Campbell County had 512 yards of offense, 336 of those yards came on the ground. The Camels out gained Cooper by 203 yards and that number showed on the scoreboard.
Of all the Campbell County players that shined on Friday none were better than senior running back Alex Dowds who ran for 178 yards and three touchdowns while adding another 24 yards receiving.
"Those O-lineman are the glue that make our team go and when Alex Dowds can be five yards down field before anyone touches him he's really hard to get," said head coach Steve Lickert.
When the Jaguars tried to force the Camels to put the ball in the air Campbell County didn't miss a beat as senior quarterback Austin Hoeh tossed four touchdowns to three different receivers while racking up 176 passing yards.
Hoeh also got the job done with his legs, rushing for 75 yards on 12 carries.
"We've really got some weapons out wide and we try to do what the defense is giving us, I think we showed tonight we've got weapons that can score and Austin Hoeh can throw it really well," said Lickert.
While Cooper did put points on the board, half of those points came in the fourth quarter and after three quarters Campbell County led 40-13 and rolled to the win.
The Jaguars managed just 134 yards in the first half and 309 for the game but definitely didn't quit until the final whistle blew, which is what the Camels expected.
"The coaches tell us to never underestimate any team and we worked pretty hard in practice for them," said senior linebacker Devon Zimpleman.
Cooper will likely be facing another uphill battle next week as they face off against the unbeaten Simon Kenton Pioneers.
Campbell County meets Ryle and fans of running the football should keep an eye on this one as two of the top runners in Northern Kentucky will face off in Dowds and Jake Chisholm of Ryle.
Campbell County 13-21-6-7-47
Cooper 6-7-0-14-27
CAM: Kramer 15 pass from Hoeh (kick failed)
COOP: Schlarman 27 pass from Linder (kick failed)
CAM: Dowds 8 run (Oehrle kick)
COOP: Maynard 3 pass from Armour (Boles kick)
CAM: Dowds 2 run (Oehrle kick)
CAM: Jolly 18 pass from Hoeh (Oehrle kick)
CAM: Dowds 23 run (Oehrle kick)
CAM: Comer 40 pass from Hoeh (kick failed)
COOP: Lee 35 pass from Armour (Boles lick)
CAM: Kramer 15 pass from Hoeh (Oehrle kick)
COOP: Witschey 44 run (Boles kick)
RECORDS: Campbell County (3-1); Cooper (0-4)
UP NEXT: Campbell County at Ryle (3-1); Cooper at Simon Kenton (4-0)