Preview: Mason at Sycamore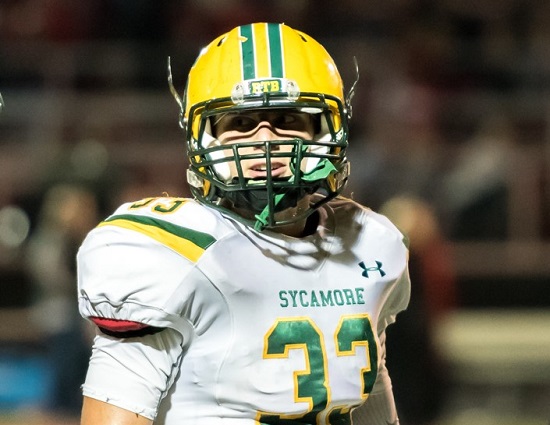 Sycamore LB Jonny Bothen (photo by Mitchell Cooke/TriStateFootball.com)
It is all about pride in the fight for the Battle of the Sky trophy. The Mason Comets will face the Sycamore Aviators for the third time in the last seven games (for Sycamore, six for Mason). These guys will be sick of seeing each other by the end of Friday night.
There is no love loss here. Sycamore defeated the Comets in the regular season finale last fall. Two weeks later the Aviators knocked Mason out of the playoff atmosphere and advanced to the Division I, Region 4 finals for the first time in school history. Mason is up to avenge its angst.
The teams are just two of the three unblemished squads that remain in the 10-team Greater Miami Conference (GMC) as league play begins. The winner puts themselves into a positon to control their playoff destiny. A Week 3 matchup that has this kind of postseason implications rarely happens. Bet on both teams leaving everything on the field. It will be a "blood, sweat and tears" effort all the way around.
No. 8 MASON COMETS (2-0) vs. No. 10 SYCAMORE AVIATORS (2-0)
Kickoff: Friday, September 8th, 7:00 p.m.
Follow on Twitter: @TSFootball
PLAYERS TO WATCH: Mason RB Matt Sora went over the 2,000 yard mark rushing for his career last week against Withrow. Of the seniors 2,016 yards rushing, 208 have come against Sycamore in three games. He was a Second Team All-Southwest District selection a year ago. Leading the way for Sora is OT Eric Miller who has verbally committed to Purdue. On defense, DL Zaid Hamdan is a sack machine and DB Cole Pearce has a relentless motor. Both were named Special Mention All-Southwest District as juniors. Hamdan has MAC offers.
Sycamore returns a well-decorated squad. Seniors, OL/DL Tate Goodyear, LB Jonny Bothen, DB Patrick Tueimeh, WR Jonathan Malek and WR Myron Williams were First Team All-GMC selections as juniors. Classmates LB Kyle Fehr and OL Trey Evans were Second Team All-GMC honorees. The 6-foot-6, 270 pound Goodyear has offers that include Air Force, Albany, Brown, Bucknell, Buffalo, Central Michigan, Cincinnati, Colorado State, Dartmouth, Eastern Kentucky, Harvard, Iowa State, Kent State, Marshall and Yale. One of the pleasant surprises for Sycamore has been K Jacob Hasselbeck. He has connected on all three of field goal attempts and they have been from 33, 37 and 38 yards.
TEAM TRENDS: Mason hasn't had a winning streak of more than two games since closing out the 2015 regular season with six straight victories. If the Comets make the playoffs it will be the first time in school history they have gone three straight years. The program has been to the postseason eight times going 2-8 in those affairs. The Mason defense has come up with nine turnovers this season. Senior Tyree Mizzell has three of them (two fumble recoveries, one interceptions).
Over the last nine games dating back to last season the Sycamore defense has allowed just 9.1 points per game. They are 8-1 in that span. Two of Sycamore's five losses were to Division I state champion St. Xavier by seven and Division II state champion La Salle by three, both in overtime. The Aviators have given up just 55 total yards, held their opponents to 2-17 on third and fourth down conversions, came up with seven takeaways and pitched two shutouts to start this season. Head coach Scott Dattilo is five wins away from 100 in his career (78 at Sycamore).
MASON'S KEYS TO VICTORY:  Stuff the box and make the Aviators sophomore QB Drew Altemuehle beat them through the air. Put pressure on first and second downs force Sycamore into third and long situations early and often. Good things will happen if they can execute that.
SYCAMORE'S KEYS TO VICTORY:  The Aviators have done a good job of keeping Sora in check the past two seasons. It must happen again. Sycamore has faced two inept offenses so far shutting down Mason will go a long way in validating a defense that the jury is still out on. On offense, if the Aviators can keep the chains moving with the stable of runners in their backfield they will be in this one until the end.
Prediction: MASON 14, SYCAMORE 7