Winton Woods Remains Perfect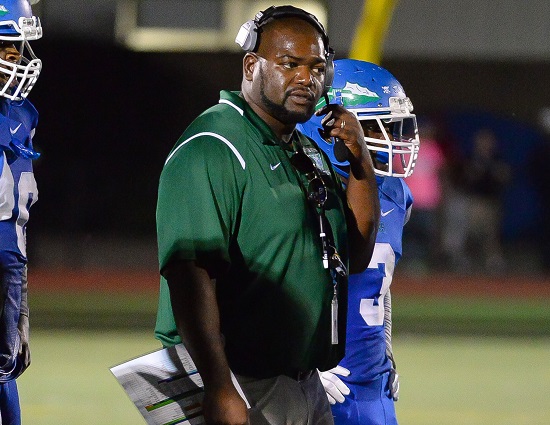 Winton Woods defense shut down the Springboro Panthers as the Warriors roll to a 29-17 win Friday night at Springboro.
The Winton Woods defense was playing outstanding football for close to three quarters until senior Cameron Rountree broke for a 55-yard touchdown run with just over five minutes left in the third quarter. Prior to Rountree's touchdown, the Warriors only allowed three field goals. This was the second straight game the Warriors played solid defense.  Last week they did not allow a point against West Clermont as the only points came on a safety.
The Warriors held a Springboro offense to only 17 points after scoring over 30 points the previous two weeks. They forced one turnover and held Rountree to only 40 total yards on 16 carries. He averaged just over two yards a carry despite the long run of 55 yards.
Rountree was impressive in the passing game as he threw for 250 yards on 17 completions. Nine of those receptions were to senior Kris Hughes, who had 118 yards.
Springboro opened the scoring in the first quarter with a field goal, but Winton Woods marched down the field and took the lead on a 28-yard touchdown pass from senior Kenny Mayberry to junior Raequan Prince.
Springboro narrowed the lead to just one when Connor Luksic connected on his second field goal of the game in the second quarter, but the Warriors answered again when Mayberry found Prince on a 64-yard touchdown pass to extend the lead 14-6. The junior receiver finished the game with 128 yards to go with his two touchdowns.
In the third quarter, Springboro was able to get within after the 55-yard run by Rountree, but the Warriors offense was just too much for the Panthers. They were able to outscore the Panthers in the fourth quarter with a field goal by junior Yeri Velasquez and a 1-yard run with just under three minutes in the game by Mayberry to push the lead to 12 and eventual final score.
Mayberry finished the contest with 312 passing yards, and senior receiver Cornell Beachem caught four receptions for 132 yards.
Winton Woods will look to stay perfect this season when they host Royal Imperial Collegiate school from Canada, and Springboro opens conference play against Fairmont.
Winton Woods 7 7 6 9
Springboro 3 3 11 0
Springboro: Luksik 42-yd FG
Winton Woods: Mayberry: 28-yd pass to Prince
Springboro: Luksik: 33-yd FG
Winton Woods: Mayberry: 64-yd pass to Prince
Springboro: Luksik 35-yd FG
Winton Woods: Williams 14-yd run
Springboro: Rountree 55-yd run
Winton Woods: Velasquez 30-yd FG
Winton Woods: Mayberry: 1-yd run
RECORDS: Winton Woods (3-0), Springboro (1-2)
UP NEXT: Winton Woods hosts Royal Imperial Collegiate (Canada); Springboro at Fairmont (3-0)