Alter posts fourth shutout of the season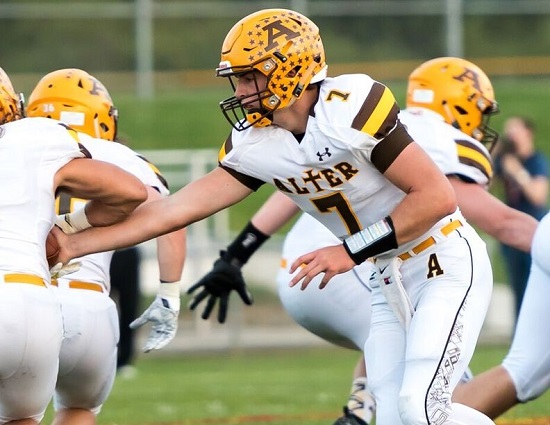 Alter QB Connor Bazelak (photo by Justin Sheldon/TSF)
HAMILTON, ohio – A stingy defense and staunch rushing attack led Alter to its seventh straight win by blanking Badin, 35-0. It was the fourth shutout for the Knights during their current winning streak. They have allowed just 60 points (7.5/game) on the season.
In typical Alter fashion they churned out 308 yards and averaged 7.7 per carry. Junior John Bivens, III had his 14th rushing touchdown of the season. Classmates, quarterback Connor Bazelak and tight end Luke Ewald hooked up on touchdown passes of 33 and 26 yards. They were the only two completions of the game by Bazelak.
The four shutouts are the most in a season by the Knights since posting the same number in 2014. Alter lost the Division IV state final to Cleveland Benedictine and now Ohio State star LB Jerome Baker. It was the Knights only loss that year.
Alter 14-7-0-14-35
Badin 0-0-0-0-0-0
A: Riazzi 1 run (Ruffolo kick)
A: Ewald 33 pass from Bazelak (Ruffolo kick)
A: Bivens, III 57 run  (Ruffolo kick)
A: DiMario 61 punt return  (Ruffolo kick)
A: Ewald 26 pass from Bazelak (Ruffolo kick)
RECORDS: Alter (7-1, 5-0); Badin (5-3, 3-2)
UP NEXT: Alter hosts Mc Nicholas (5-2, 3-1); Badin at Chaminade-Julienne (5-2, 4-0)