Best Bets: Week 8 – NKY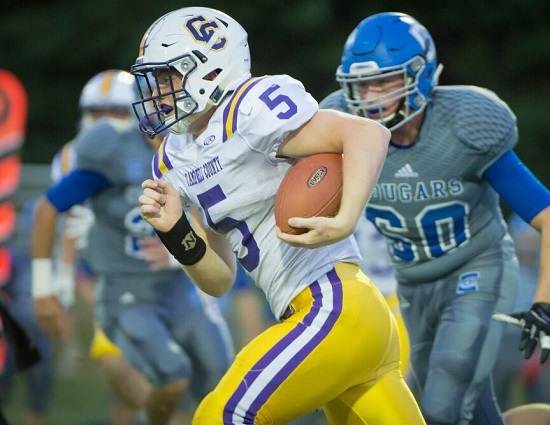 It's the second-last week of league play in Northern Kentucky, and home-field advantage is on the line in practically every district.
Here is a look at the Best Bets for Northern Kentucky in Week 8:
Highlands (3-4) at Covington Catholic (7-0), 7 p.m. – Highlands had lost four straight games heading into last week, but the Bluebirds destroyed Dixie Heights, 47-0. Nick Veneman has 530 receiving yards and eight touchdowns for the season, including four TD catches last week. Highlands is rushing for just 110.1 yards per game, but Carl Schoellman has thrown for 1,471 yards and 13 scores. CovCath has been amazingly consistent, scoring between 30 and 49 points in each game and allowing fewer than 20 in all seven. The Colonels are outscoring their opponents, 253-49 and have more than doubles their foes' yardage. Highlands coach Brian Weinrich is 2-1 vs. CovCath, but both of those wins came in 2015. The Colonels won, 63-26 last year.
Lloyd (5-2) at Newport Central Catholic (4-3), 7 p.m. – This is likely the District 2A championship game, as both teams are 1-0 in the district. Lloyd hasn't posted a sub-.500 record since 2011, and the Juggernauts have exceled on the ground, averaging 250.0 yards. Jordan Fann and Travon Mason has both surpassed the 700-yard mark, and Fann has scored 11 times. Kyle Kelly has rushed for 697 yards to pace the Thoroughbreds, who have held opponents to 78 yards per game in the air. NewCath won by 10 and 34 when these teams met in 2016.
Campbell County (5-2) at Simon Kenton (8-0), 7 p.m. – This is almost certainly the district title match. These teams play is a three-team district, with Boone County being the third, and this is the first tilt between these three. Camels RB Alex Dowds has been one of the state's top rushers with 1,338 yards and 17 touchdowns, as he averages 9.4 yards per carry. Campbell County has scored at least 35 points in four of its last five games. Unbeaten Simon Kenton edged Conner and Highlands, so it hasn't proven itself omnipotent. Matt Shearer has thrown for 22 touchdowns and just three interceptions.
Carroll County (3-4) at Walton-Verona (5-2), 7:30 p.m. – Carroll County is coming off a one-point loss to Owen County, dropping the Panthers to 2-1 in district play, while Walton-Verona is 2-0 after outscoring its first two Class 2A foes – Owen County and Trimble County, 117-0. Walton-Verona has gained over 2,000 yards on the ground without anyone picking up more than 500, as Garret Talbot leads the team with 448 yards and Micah Alford has scored nine touchdowns.
Brossart (4-3) at Paris (6-1), 7:30 p.m. – Brossart allowed 49 total points its first five games but has given up 99 in its last two. The Mustangs are 1-1 in district play and Paris is 3-0, so Brossart needs to win to have any shot a district title. Paris has given up just 56 points all season.
Bourbon County (5-2) at Scott (4-3), 7:30 p.m. – With both teams 2-0 in district play, this will likely determine the Class 4A champion. Bourbon County has come out on top in all of its one-score games – going 3-0 in games decided by seven points or fewer. Scott is averaging 35.1 points, thanks to a rushing attack that has gained over 2,000 yards. Quincy Perrin is 98-877-10 to pace the Eagles.
Mason County (4-3) at Holmes (2-5), 7:30 p.m. – Mason County have played in its share of close games this season. The Royals have gone to overtime twice – winning one and losing one – and they have also lost by one and four. Holmes lost its first four but edged Harrison County before blowing out Holy Cross, then falling to Bourbon County last week. The Bulldogs scored 26 points in their first five games and 73 in their last two. This game is huge for both teams in term of home-field advantage in the playoffs, as Mason County is 1-2 entering its final Class 4A game while Holmes is 1-1.
Bellevue (4-3) at Dayton (1-6), 7 p.m. – Almost unheard of in football, these teams play twice a season, and while Bellevue dominated Dayton for years, the Greendevils won one of two ultra-close contests in 2016 and fell by 20 earlier this year. This one counts toward district standings though, and Bellevue and Dayton are both 0-1 after drubbings by Beechwood and Ludlow, respectively. The Tigers throw more than half the time, with Eric Atkins tallying 1,351 yards in the air and 18 touchdowns. QB Seth Chinn is pacing the Dayton offense with 545 ground yards.
Cincinnati Aiken (5-2) at Grant County (0-7), 7:30 p.m. – Aiken has won consecutive games, and Kievaughn Sanks has been a key contributor on offense the past few weeks, with a 163-yard game and 462 ground yards on the season. Timothy Jordan ran for 220 yards last week to key the Falcons. Grant County, playing its first non-Kentucky opponent since 2014, has lost by at least 19 in every game this season.