Colerain defeats East on Second Half Surge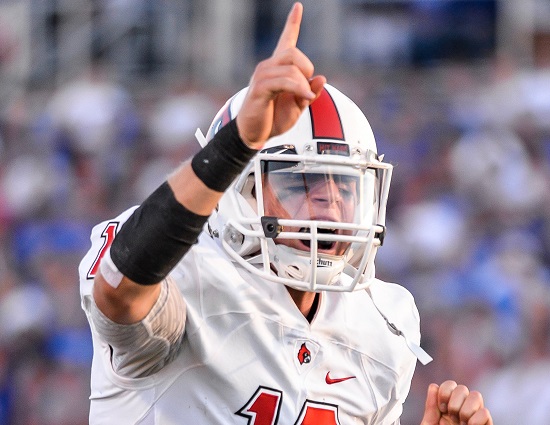 Colerain shuts down conference foe Lakota East, 38-13, Friday night at home.
Lakota East had a 13-10 halftime team, but the Colerain defense shutout Lakota East in the second half and outscored the Thunderhawk, 28-0.
Colerain took a 10-0 lead early in the first quarter, but Lakota East fought back scoring two touchdowns in the second quarter. The first touchdown came with 10 minutes left in the second quarter on a junior Jack Dobrozsi 3-yard touchdown run. The second was five minutes later on a 67-yard touchdown pass from senior Dylan Fry to junior Evan Yabionsky.
That lead woke up the Cardinals as a different team came out of the locker room in the second half. Colerain took the lead with two minutes left in the third quarter when junior quarterback Gunnar Leyendecker connected with junior receiver Syncere Jones on a 19-yard pass for a touchdown. That score was followed up with three more unanswered touchdowns, all coming in the fourth quarter. Leyendecker scored on a 7-yard run, junior Jakari Patterson returned an interception 39 yards for a touchdown, and junior running back Ivan Pace ran in for a 20-yard score.
Jones had two touchdowns in the game, and Leyendecker and junior running back J.J.Davis led the team with 65 yards rushing.
The Cardinals defense held Lakota East to only eight first downs and 234 total yards. The stat that stands out is Lakota East running backs were held to an average of 2.9 yards per rush. They also were able to keep the offense off the field as the Cardinals had the football near 11 minutes more than the Thunderhawks.
This is the Cardinals 64th straight conference win, which dates to 2008. After two straight home games, Colerain heads on the road next week to play Fairfield. Lakota East will return home to face Hamilton.
RECORDS: Lakota East (5-2), Colerain (5-2)
UP NEXT: Colerain visits Fairfield (5-2); Lakota West hosts Hamilton (2-5)
Lakota East 0 13 0 0
Colerain 10 0 7 21
Colerain: Jones 4-yd run
Colerain: Mangold 37-yd FG
Lakota East: Dobrozsi 3-yd run
Lakota East: Fry: 67-yd pass to Yablonsky
Colerain: Leyendecker: 19-yd pass to Jones
Colerain: Leyendecker 7-yd run
Colerain: Patterson 39-yd INT return
Colerain: Pace Jr 20-yd run