Sycamore Spoils Hamilton Homecoming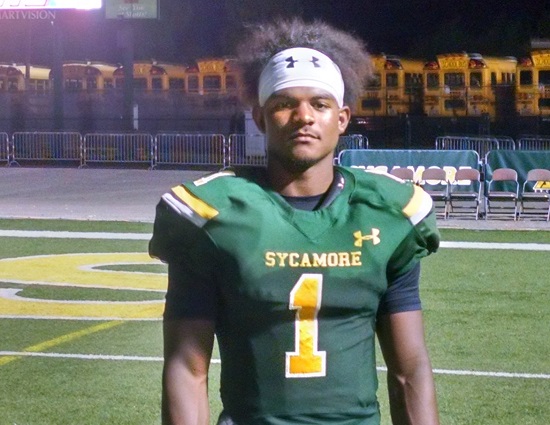 After a slow start, Sycamore was able to get passed Hamilton, 24-13, Friday night at Hamilton High School.
The Sycamore offense started off slow having just a 7-0 lead at halftime. Then on the opening drive of the second half, senior running back Jonathan Malek ran for a 49-yard touchdown run to take a 14-0 lead.
Hamilton Big Blue answered on its next possession when sophomore Khaliyal Sowell threw a 63-yard strike to senior Johnny Jones to narrow the lead to only one score. Sowell completed five passes for 108 yards.
That 14-7 score held up for seven minutes, until Jordan McConnell scored on a three-yard run. Big Blue had trouble stopping the sophomore running back as McConnell finished the game with 106 yards. That is most yards in a single game in his varsity career.
In the fourth quarter, Hamilton narrowed the gap, 21-13, when Jones scored his second touchdown of the game on a one-yard run, but the Aviators sealed the win when senior Jacob Hasselbeck kicked a 22-yard field goal with just over three minutes.
Sophomore Drew Altermuehle continued to impress in the passing game as he went 11-for-15 for 104 yards. In the last three games he has completed 67 percent of his passes. This is his third straight game with a touchdown.
Sycamore defense held Hamilton senior Maleek Jarrett to only 69 rushing yards. He had 150-plus yards in the last two games.
Sycamore will head to Oak Hills next Friday as they push to another playoff appearance. Hamilton will head up Route 129 to play Lakota East.Big Blue has lost three of its last four games.
RECORDS: Sycamore (5-2), Hamilton (2-5)
UP NEXT: Sycamore visits Oak Hills (0-7), Hamilton visits Lakota East (5-2)
Sycamore 7 0 14 3
Hamilton  0 0  7  6
Sycamore: Altermuehle 4-yd run
Sycamore: Malek 49-yd run
Hamilton: Sowell: 63-yd pass to Jones
Sycamore: McConnell 3-yd run
Hamilton: Jones 3-yd run
Sycamore: Hasselbeck 22-yd FG