Wayne cruises over Beavercreek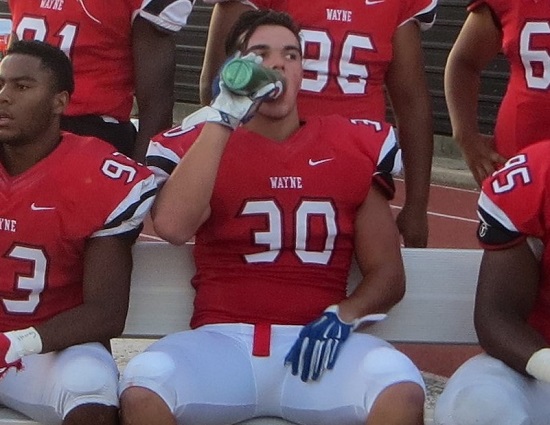 Wayne DE Alex Reigelsperger (photo by Greg Shoemaker/TriStateFootball.com)
Wayne overcomes last week's defeat to Centerville with a 42-14 win at Beavercreek.
Beavercreek did not have an answer for quarterback Rashad McKee. The junior quarterback was responsible for four touchdowns, which all came in the first half.
The Warriors took a quick 14-0 lead in the first quarter when McKee scored on an eight-yard run, and then on the next possession threw a 44-yard pass to senior L'Christian Smith.
In the second quarter, Beavercreek got on the scoreboard when senior Kaden Wenger broke through the line for a 44-yard run. He ran the ball 22 times for 137 yards. Wenger is averaging over 167 rushing yards per game.
McKee connected for his second touchdown pass when he found junior Steven Victoria on a 12-yard catch. He led the team with 90 yards. The junior quarterback followed that up with a four-yard run.
McKee has at least three touchdowns in the last five games. The most touchdowns in a game was against Miamisburg when McKee had six touchdown, three passes and three rushing scores.
Beavercreek opened the scoring in the second half when Sabastian Rendon caught an 18-yard pass from Cody Hacker. Rendon had three receptions for 39 yards. Hocker completed only five passes, but one was on this touchdown connection. This narrowed the Warriors' lead to 28-14, but that is as close as this game would get. Junior Trace Kinnel and senior Justin Williams added to the scoring to push the lead to the eventual final score.
Wayne allowed 288 rushing yards, but held Beavercreek to only 51 passing yards.
The Warriors will play Fairmont next Friday on the road, and then have its last home game against Springfield before the last regular season at Trotwood-Madison. This is a challenging schedule as Fairmont has only lost one loss, Springfield has only lost two and Trtotwood-Madison is undefeated. This will be a test going into the division I state playoffs.
This is Beaverceek's second straight loss after losing to Springboro last Friday. They are in contention to make the state playoffs, but their remaining schedule is at Springfield, home to Miamisburg and then at Centerville. Miamisburg is the only team with a losing record, and Centerville is considered one of the best teams in the conference after the Elks win last week over Wayne. This will be an uphill battle for Beavercreek to make the playoffs.
Wayne 14-14-14-0-42
Beavercreek 0-7-7-0-14
W: McKee 8-yd run (Russell kick)
W: McKee 44-yd pass to Smith (Russell kick)
B: Wenger 44-yd run (Cash kick)
W: McKee 12-yd TD pass to Victoria (Russell kick)
W: McKee 4-yd run (Russell kick)
B: Hocker 18-yd pass to Rendon (Cash kick)
W: Kinnel 33-yd run (Russell kick)
W: Williams 4-yd run (Russell kick)
RECORDS: Wayne (5-2); Beavercreek (5-2)
UP NEXT: Wayne visits Fairmont (6-1); Beavercreek visits Springfield (5-2)