Anderson nips West Clermont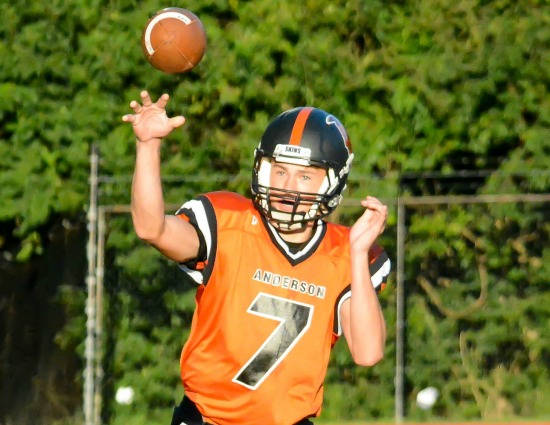 It was the first time the two teams had played each other but Anderson and West Clermont took a big step toward becoming rivals on Friday.
The Redskins saw a 27-point lead evaporate in the second half before rallying for the game-winning touchdown with 74 seconds left in a 42-34 win over the Wolves.
Anderson scored the first four touchdowns of the game to jump ahead, 27-0. QB Jay Volpenhein ran in a 6-yard score late in the first quarter, and he threw for three second-quarter TDs. Gatlin Temple caught a 41-yard touchdown passes and Austin Watts pulled down scoring catches of 11 and 59 yards.
But West Clermont cut the lead to 21 in the final minute of the first half on an 8-yard run by Ryan Cann. Cann punched in another score in the third quarter to make it 27-13, and Anderson's Volpenhein scored from four yards out to give the Redskins back a 21-point lead.
The Wolves found the end zone twice in the final minutes of the third quarter and tied it with 3:12 left in regulation with a rushing touchdown and two-point conversion.
But Volpenhein capped off the winning drive 1:58 later with a 31-yard TD pass to Amadez Jones.
Volpenhein threw for 493 yards and four touchdowns, completing 29 of 45 attempts, and he ran in two more scores. Watt caught six passes for 112 yards and a pair of TDs.
Cann ran the ball 25 times for 254 yards to pace West Clermont.
Anderson, which improved to 7-0 and is tied with Milford for the top spot in the ECC at 4-0, travels to Turpin next week. West Clermont fell to 3-1 in the conference and will host Loveland.