Milford downs Withrow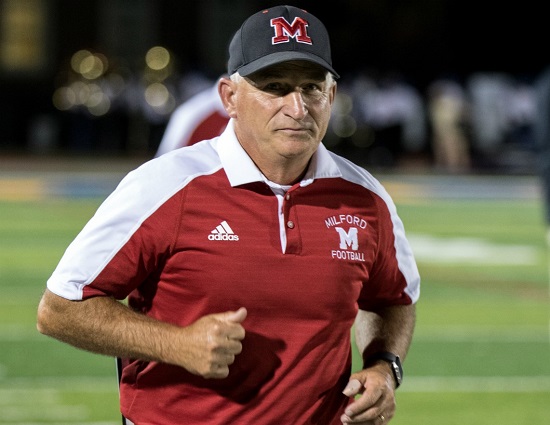 Milford head coach Tom Grippa (photo by Bill Kordis)
Cameron Kells scored three touchdowns as Milford beat Withrow, 39-14 on Friday.
Kells finished with 85 ground yards on 16 carries, and he found the end zone in the first period and twice more in the third.
Milford, which won its fifth straight game, will travel to Anderson next week. Withrow heads to Walnut Hills.
Score by Quarters     1  2  3  4   Score
—————–    — — — —   —–
Withrow………….  0  0  8  6  – 14
Milford………….  7 10 15  7  – 39
Scoring Summary:
M: Cameron Kells 1 yd run (Dillon Coleman kick)
                                                  8 plays, 65 yards, TOP
2:45
M: Sam Pickett 27 yd pass from Blake King (Dillon Coleman kick)
                                                 4 plays, 45 yards, TOP
1:20
M: Dillon Coleman 31 yd field goal
                                                 6 plays, 33 yards, TOP
2:17
M: Cameron Kells 5 yd run (Blake King rush)
                                                 2 plays, 15 yards, TOP
0:29
W: Tyron Mincy 1 yd run (Dajon Walker pass from Timothy Blair)
                                                14 plays, 77 yards, TOP
6:48
M: Cameron Kells 7 yd run (Dillon Coleman kick)
                                                 9 plays, 64 yards, TOP
2:20
M: Connor Foster 20 yd pass from Blake King (Dillon Coleman kick)                                        1 play, 20 yards, TOP
0:05
W: Dare Moffett 50 yd pass from Timothy Blair (Timothy Blair pass failed)                             1 play, 50 yards, TOP
0:32