Northmont hangs first loss on Centerville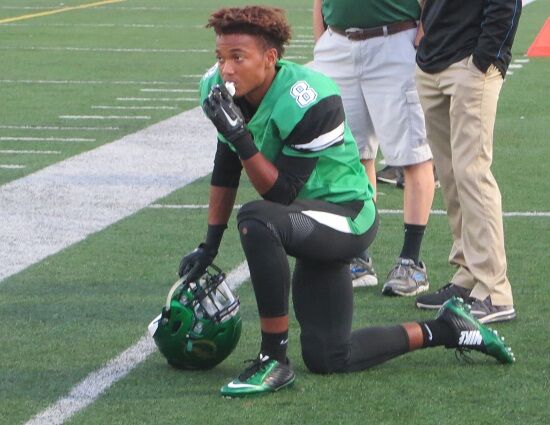 Northmont DB/P Danny Lewis (photo by Greg Shoemaker/TSF)
CLAYTON, ohio – If Northmont wanted validation and respect they got it on Friday night as they took down Centerville in convincing fashion. The loss was the first of the season for the Elks. The victory was the third straight and sixth in the last seven games for the Thunderbolts.
Northmont scored 21 unanswered points to open up this affair and never looked back. A second touchdown pass from Miles Johnson to Kameron Mathis put the T'bolts up 14-0. It was the first time all season that Centerville had trailed by more than nine points.
Those were the only two catches of the game for Mathis and they were huge. Johnson finished with 124 yards through the air and those two scoring strikes. Senior Devin Kenerly paced the Northmont ground game with 145 yards and a touchdown on 21 carries. It was his fifth straight week Kenerly has run for 110 yards or more.
The ground game was the difference in this affair. The Thunderbolts held Centerville to just 77 yards on 35 rushes (2.2/carry). Northmont churned out 155 yards averaging 5.7 yards per tote.
Centerville 0-7-7-0-14
Northmont -7-14-0-0-21
N: Mathis 25 pass from Johnson (Goodwin kick)
N: Mathis 8 pass from Johnson (Goodwin kick)
N: Kenerly 19 run (Goodwin kick)
C: Melzer 5 pass from Grandin (Walters kick)
C: King 3 pass from Grandin (Walters kick)
RECORDS: Centerville (7-1, 2-0); Northmont (6-2, 1-0)
UP NEXT: Centerville hosts Fairmont (6-2, 0-2); Northmont is at Springboro (4-4, 1-0)