Colerain answers challenge in resounding fashion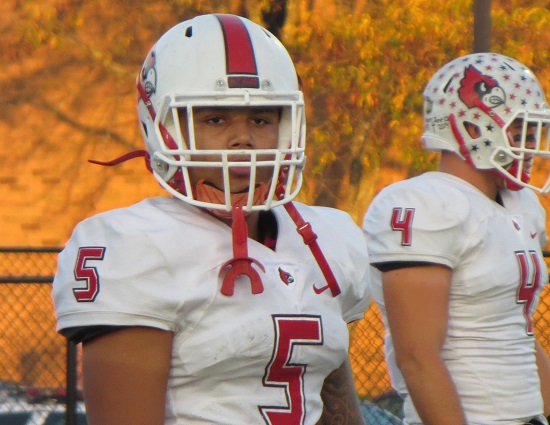 Colerain RB/LB Ivan Pace, Jr. (photo by Greg Shoemaker/TSF)
FAIRFIELD, ohio – One play ruined Fairfield's quest for destiny. The Indians were on the verge of taking the lead when Colerain senior defensive back Ja'von Hicks picked off a Jeff Tyus pass in the Cardinals end zone and returned it more than 100 yards for a touchdown on a play that ended the first half. A stunned Fairfield squad never looked the same the rest of the game.
The contest was for sole possession of first place in the Greater Miami Conference and it was living up to its billing before Hicks changed the course of the outcome. Fairfield was moving the ball on the ground but that pick would take the wind out of their sails. Taimar Boykin had 90 yards rushing in the first half for the Indians. He would finish with 104 of the teams 124 yards on the ground on the night.
Fairfield had visions of an upset but it wasn't to be. Colerain won its 65th consecutive GMC game and improved to 119-1 since 200 in conference play.
It was the sixth straight victory for the Cardinals who have been dominate in that span. They are averaging 38.5 points and having scored no less than 36 in its last six outings. The defense has been equally stellar allowing just 8.3 points per outing in that same time frame.
This win was a total team effort for the Cardinals. Juniors Ivan Pace, Jr. and JJ Davis each had a pair of touchdowns. The duo combined to run for 157 yards on 15 carries. The seniors made their presence felt on defense as Brennan Hobbs registered three sacks while Hicks and Dan Bolden came up with interceptions. It was the second pick six for Hicks in the last three weeks.
Postgame Video Interview: Tom Bolden
Postgame Audio Interview: Luke Bolden
Colerain 3-14-14-7-38
Fairfield 6-0-0-6-12
C: Mangold 28 FG
F: Boykin 4 run (kick failed)
C: JJ Davis 12 pass from Leyendecker (Mangold kick)
C: Hicks 100 interception return (Mangold kick)
C: JJ Davis 61 run (Mangold kick)
C: Pace, Jr. 27 run (Mangold kick)
C: Pace, Jr. 2 run (Mangold kick)
F: McClain 45 pass from Tyus (kick failed)
RECORDS: Colerain (6-2, 6-0); Fairfield (5-3, 5-1)
UP NEXT: Colerain hosts Lakota West (2-6, 1-5); Fairfield (5-3, 5-1) at Mason (6-2, 4-2)