Northmont Stays Atop Division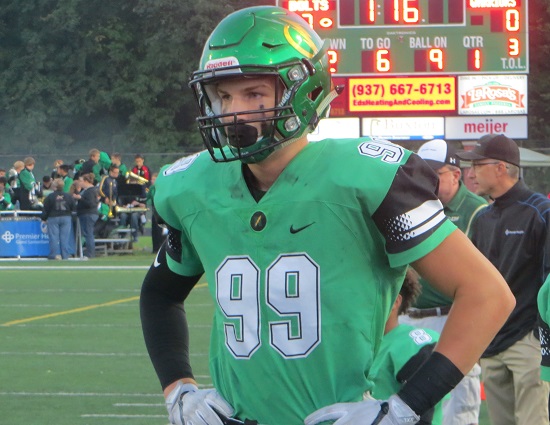 Northmont defeats Springfield, 22-10, with the help of running back Devin Kenerly's career-high 264 yards and three touchdowns.
Kenerly opened the scoring for Northmont in the first quarter on a four-yard run, but Springfield made adjustments and stopped Northmont for the rest of the half to trail only 7-3 heading into the locker room.
On the opening drive of  the second Springfield took the lead when senior Leonard Taylor threw a 31-yard pass to junior Caleb Johnson to take a 10-7 lead. Johnson led the team with 102 yards. This was the first time surpassing 100-plus receiving yards since Week 2 against Princeton.
Within just over a minute Northmont drove down the field and took back the lead on Kenerly's second touchdown of the night to make the score 14-7.
With just over two minutes in the third quarter, when Northmont Kameron Mathis fumbled the ball near the Springfield goal line. Quincy Scott on Springfield recovered the fumble and was tackled in the endzone as he tried to run and pass the football. The referees ruled a safety because Scott threw an illegal forward pass. That gave Northmont a two-score lead.
Kenerly added his third touchdown in the fourth quarter to secure the win, and stay atop the GWOC National West division ahead of Springboro, Miamisburg and Lebanon. Northmont has the best record in the GWOC National West, and a playoff contender in Division I, Region 3.
Northmont quarterback Miles Johnson completed 11-of-19 passes 121 yards, and helped setup Kenerly's touchdowns. They were able to accumulate 392 yards of total offense against the Springfield defense.
Springfield's Leonard Taylor threw for 148 yards and a touchdown.
Next Friday, Northmont hosts a red-hot undefeated Centerville team that defeated Lebanon, 42-21, Friday night. Springfield will host Beavercreek as both teams are vying for a playoff spots, so this outcome could possibly eliminate the losing team.
RECORD: Northomt (5-2), Springfield (5-2)
UP NEXT: Northmont hosts Centerville (7-0), Springfield hosts Beavercreek (5-2)
Northmont  7  0 9 6
Springfield  0  3 7 0
Northmont: Kenerly 4-yd run
Springfield: Carey 30-yd FG
Springfield: Taylor 31-yd pass to Johnson
Northmont: Kenerly 1-yd run
Northmoont:Kenerly 6-yd run