St. Xavier dominates La Salle to clinch GCL South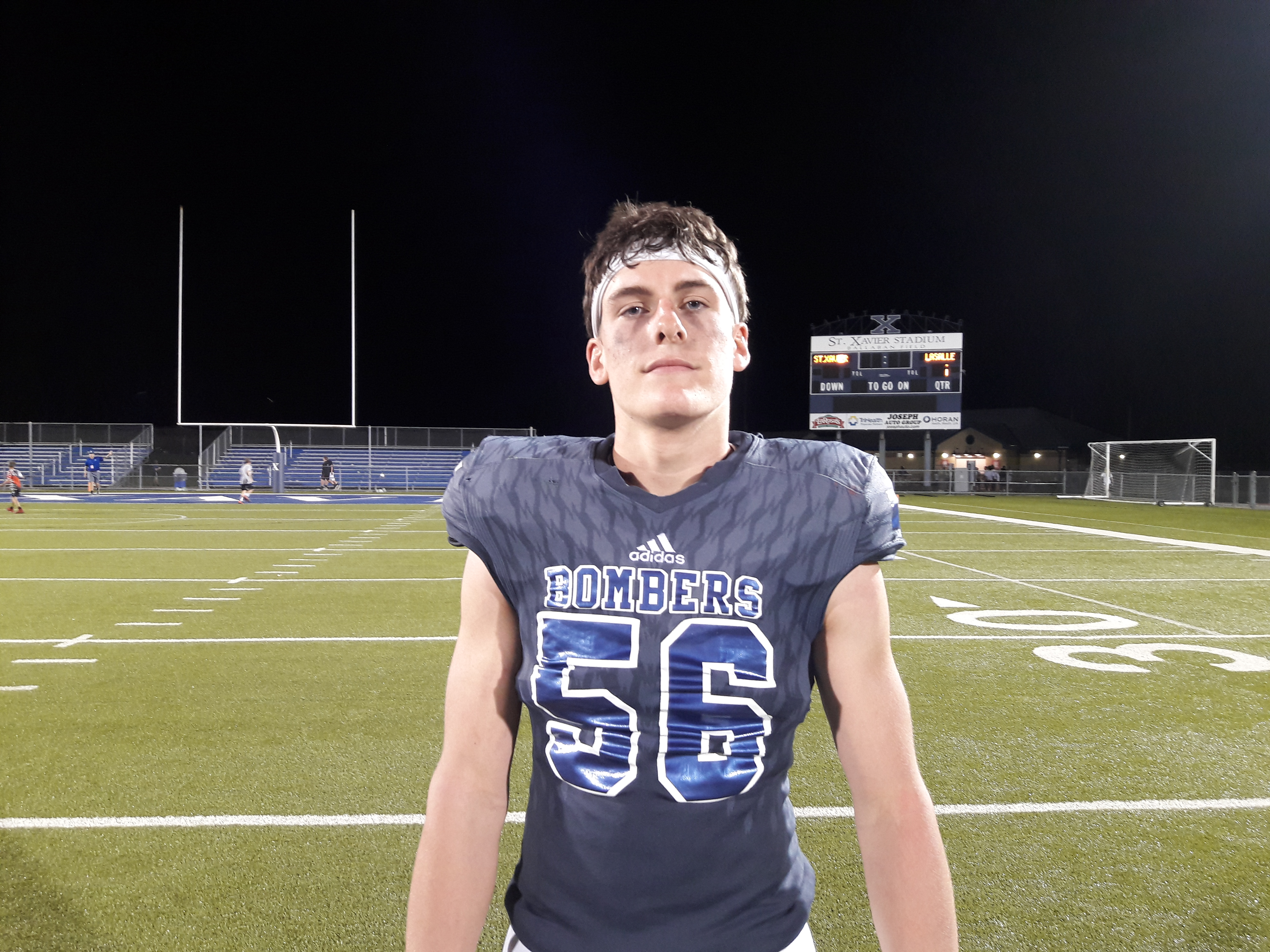 Cincinnati – The St. Xavier Bombers cruised past the La Salle Lancers 42-7 Friday night on Tom Ballaban Field at St. Xavier Stadium.
St. Xavier dominated La Salle from the opening whistle en route to it's seventh straight win of the year while also wrapping up the outright GCL South championship for the first time in five years.
"As a senior it's really awesome to experience, of course that's our first goal the GCL South championship," said senior linebacker Will Childs.
The Bomber defense was exceptional all night holding the Lancers to just 181 yards of offense and they kept senior quarterback Griffin Merritt to six completions for only 63 yards. Merritt had thrown for over 200 yards in each of his past three games.
The St. Xavier defense was great on all levels and did a great job getting off the field as they allowed just one third down conversion on 11 attempts.
Besides limiting the production from Merritt the Bomber defense held La Salle to 118 yards rushing on 31 carries with 87 of those rushing yards coming on four plays meaning they allowed just 31 yards on the other 27 carries.
"Our D-line are beasts, Bobby Jefferson is a beast," said Childs.
St. Xavier dominated both sides of the line of scrimmage and senior defensive lineman Bobby Jefferson led the Bombers up front with five tackles and a sack.
St. Xavier's senior quarterback led the offensive outburst with four first half touchdown passes and 194 passing yards which mostly came in the first half.
"He spreads the ball around, Chase makes great decisions but he's going to be the first to tell you look at the offensive line and my receivers and look what they're doing for me," said head coach Steve Specht.
Three different receivers caught Wolf's four touchdown passes and five different receivers accounted for his 16 completions.
The Bombers also moved the ball on the ground when they needed to with senior running back Matthew Fox carrying the ball ten times for 49 yards and sophomore running back Kellen Newman adding nine carries for 42 yards and two touchdowns.
The game was essentially over after the first quarter and by halftime it was just a matter of playing the final 24 minutes before St. Xavier could officially claim their seventh victory of the year in what might have been it's most complete performance of the season.
"It's a team game and in all three phases we played really well tonight," said Specht.
La Salle 0 7 0 0 7
St. Xavier 28 14 0 0 42
X Specht 19 pass from Wolf (Stock kick)
X Kreimer 61 pass from Wolf (Stock kick)
X Wittrock 3 pass from Wolf (Stock kick)
X Newman 1 run (Stock kick)
X Wittrock 6 pass from Wolf (Stock kick)
L Merritt 21 run (Seibert kick)
X Newman 18 run (Stock kick)
RECORDS: St. Xavier (7-0); La Salle (5-2)
UP NEXT: Clarkson SS, Ontario @ St. Xavier; La Salle at Akron St. Vincent – St. Mary