East Central State Champs!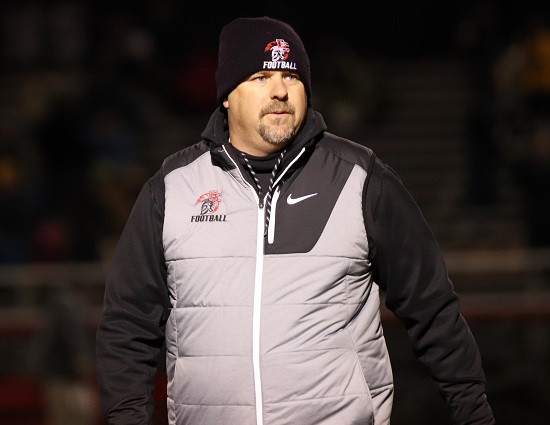 INDIANAPOLIS, Indiana – A six-yard touchdown run by Alex Maxwell with 2:02 left in the fourth quarter was the game clinching score for East Central who won its second state title and first since 1994. The Trojans were a heavy underdog to a Lowell squad that came into the contest undefeated and in the end it was East Central who prevailed to become the 2017 IHSAA Class 4A champions.
Experience played a large role in this affair. Having been in the state championship game just two years earlier benefited the Trojans composure and ability to execute in crucial situations on Saturday afternoon at Lucas Oil Stadium.
"The first time we did this, the experience kind of overwhelmed us. We were winning the game through three quarters and collapsed in the fourth quarter. I thought a lot of that was just exhaustion and the emotional and physical pressure of the week and season. This time our kids understood what they were walking into," East Central head coach Justin Roden stated. It clearly made a huge difference in the outcome.
Lowell was able to move the ball between the 20's racking up 287 yards of total offense but three turnovers including a pair of interceptions by the Trojans Nathan Lloyd led to the Red Devils demise. After starting the year off 1-2, East Central rallied to win 11 of its last 12 games. In all of those victories the defense held their foes to 14 points or less.
When big plays were need Maxwell stepped up and delivered in the clutch. He finished the afternoon with 86 yards on the ground and 70 through the air including a 13-yard touchdown pass to Justin Brown midway through the second stanza that really gave the Trojans that shot of confidence they needed in order to beat the bigger and stronger Lowell squad.
"When you look at our 5'11" guys up against their guys, it's hard to believe what we did," Roden exclaimed. "This wasn't supposed to be our year. Next year was when everyone thought we would make a run."
So it was hats off to the East Central seniors – Brown, Logan Storie, Tanner Yocum, Jayden Williamson, Logan Moser, Keegan Gindling, Landon Foster and their classmates who went an astounding 15-2 in the playoffs over the last three seasons. They leave behind one of the most fruitful and memorable legacies of any class ever to walk out onto Trojan Field. A fitting tribute for a group that has now raised the bar exceptionally high in St. Leon.
Lowell 7-0-0-0-7
East Central 0-7-0-7-14
L: Jusevitch 1 run (Hutton kick)
E: Brown 13 pass from Maxwell (Browndyke kick)
E: Maxwell 6 run (Browndyke kick)
RECORDS: Lowell (14-1); East Central (12-3)