Wyoming, Clinton-Massie have set the bar high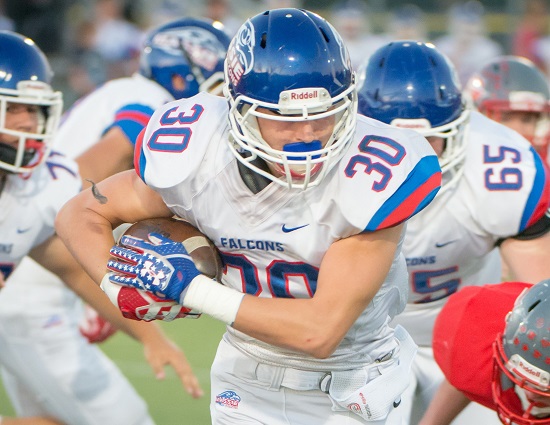 Clinton-Massie RB Christian Poynter (photo by Mitchell Cooke/TriStateFootball.com)
Small school football royalty take center stage in this regional title game. It is the first time that Wyoming and Clinton-Massie have met since the 2007 playoffs. That was an epic, 29-28, double overtime win for Clinton-Massie. A decade later the two schools are set so square off again in what promises to be another memorable battle.
This could just be a precursor of a budding rivalry as both schools have plenty of underclass talent to, keep up and raise, the standards of excellence these programs have set.
WYOMING COWBOYS (12-0) at CLINTON-MASSIE FALCONS (11-1)
Division IV, Region 16 regional final
Friday, November 17th, 7:30 p.m., Firebird Stadium, Lakota West HS
REGION 16 RESULTS
Quarter-finals
#1 Valley View 42, #8 Waverly 0
#4 Clinton-Massie 17, #5 Jonathan Alder 7
#2 Wyoming 10, #7 London 7
#6 Indian Hill 47, #3 Taft 22
Semi-finals
#4 Clinton-Massie 28, #1 Valley View 20
#2 Wyoming 25, #6 Indian Hill 0
PLAYOFF HISTORY
Clinton-Massie: (17th appearance, 29-14 overall) – 2017, 2016, 2015, 2014, 2013 (State Champions), 2012 (State Champions), 2011 (Regional Champions), 2010, 2009, 2008, 2007, 2006, 2005, 2004, 2003, 2002, 1998
Wyoming: (23rd appearance, 19-21 overall) – 2017, 2016, 2015, 2014, 2013, 2010, 2009 (Regional Champions), 2007, 2006, 2005, 2003, 2002, 2001, 2000, 1999, 1998 (Regional Champions), 1997, 1996, 1994, 1992, 1988, 1977 (State Champions), 1975 (State Runner-up)
THE COACHES
Clinton-Massie: Dan McSurley (206-53 at Clinton-Massie, 22nd year; 226-73, 27th year overall)
Wyoming: Aaron Hancock (57-12 at Wyoming, sixth year; 57-12 overall)
WHAT YOU SHOULD KNOW
This the 16th straight playoff appearance for Clinton-Massie. All 17 of the schools trips to the postseason have been under McSurley. Defensively, the Falcons have held six foes to seven points or fewer including three shutouts.
The running game fuels the fire for Clinton-Massie offense with 322.9 yards rushing per contest and 53 touchdowns. The Falcons averaged 51.1 points in their first seven games. They eclipsed 50 points five times in that span. Since then Clinton-Massie hasn't scored more than 48 points and has averaged just 30.6 over their last five tilts.
Stability has been a key factor in Wyoming's constant success. The Cowboys have had just four head coaches in the last 61 years and just three losing seasons during that time. The program has thrived going 502-127-12 for a .792 winning % in that time frame.
Defensively, this squad has held seven foes to seven points or fewer with four shutouts. Over the past two seasons, Wyoming has won 24 games holding 16 of their victims to seven points or less including nine of those being by shutout. The current roster has eight players who have started the majority of those games on defense.
WHO YOU SHOULD KNOW
CLINTON-MASSIE
Christian Poynter, Sr, RB – The centerpiece of the Falcons offense, Poynter has run for 1,348 yards and 29 touchdowns.
Spencer Voss, Jr, OL – It is easy for Poynter to pick up yards running behind the 6-foot-6, 280 pound Voss who is a Division I prospect.
Luke Richardson, Sr, WR/DB/RS – Has an uncanny knack for making the big play. Ten of Richardson's 15 receptions for 589 yards (38.9 yards/catch) have gone for touchdowns. On defense he has eight interceptions, 42 tackles. Richardson is also the Falcons top kickoff returner on special teams.
Thomas Meyers, Jr, DE – The 6-foot-6, 220 pound Meyers is a star on the rise. He has eight sacks and two interceptions.
Trey Uetrecht, Sr, LB – A First Team All-Ohio selection as a junior, Uetrecht is the team's top tackler with 81 to go along with five sacks.
Wes Trampler, Sr, DE/P – One of the real forces on the Falcons defense with seven-and-a-half sacks.
Derick Carlisle, Sr, K – A big leg has led to 82 points including five field goals for Carlisle.

WYOMING
Pierson Rogers, Jr, RB/LB – Is coming off a 297-yard rushing performance. The Cowboys top player has 1,283 yards rushing, 21 receptions, 355 receiving yards with 28 touchdowns (22 rushing, six receiving).
Evan Prater, So, QB – In his first year as a starter Prater has thrown for 1,516 yards, completed 68.1% of his passes, run for 742 yards, accounted for 33 touchdowns (22 passing, 11 rushing) while committing just six turnovers.
Hasan Black, Jr, LB – Arguably the best player on the Cowboys defense. Black has tallied 94 tackles (58 solo) with three sacks and an interception.
Cam O'Gara, So, LB – Covers so much ground and his productivity shows it. O'Gara has been in on 98 total tackles (61 solo) with three sacks, two fumble recoveries and four interceptions including a pick six.
James Smith, Jr, DL – A big time force on the Cowboys d-line. The 6-foot-4, 230 pound Division I prospect had 16 tackles for losses and five sacks during the regular season.
Joey Edmonds, Sr, WR/DB – The junior is a team captain and a jack-of-all-trades. In his three years as a starter Edmonds has thrown for 983 yards, caught 51 passes for 673 yards, been in on 55 total tackles, snared four interceptions and accounted for 26 touchdowns (14 passing, 10 receiving, two interception returns).
Eli Cupp, Jr, OL/DL – A two-year starter who excels on both sides of the ball. Hancock calls Cupp, "his best offensive lineman."
Sergio Listo, Sr, K – A huge asset on special teams, Listo has 42 touchbacks on 70 kickoffs and 64 points.