Davis, Big Red rolls past Clinton-Massie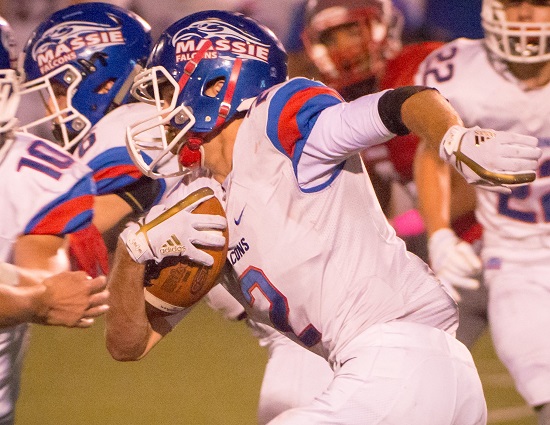 Clinton-Massie ATH Luke Richardson (photo by Mitch Cooke/TriStateFootball.com)
CANTON, ohio – Stuebenville quarterback Javon Davis ended his career in stupendous fashion as the Big Red capped off an unbeaten season rocketing past Clinton-Massie. It was the fourth state title for Steubenville and first since 200. The Big Red had been state runner-up the past two seasons.
Less than two minutes into the second quarter Steubenville had built a 27-7 lead over Falcons. The senior Davis was "locked in." By that time had thrown three touchdown passes including a pair to Alec Taylor. Classmates Jacob Bernard and Johnny Agresta also found the end zone for the Big Red. The longest of those four touchdown drives was 2:14.
Clinton-Massie scratched and clawed to stay alive but mental breakdowns, a costly turnover and the explosive Steubenville offense were too much to overcome. The Falcons scored 15 unanswered points to pull within seven at 36-29 with 4:28 left in the third quarter.
Steubenville then went on its longest scoring drive. Davis finished off the 10-play, 4:53 drive with 13-yard touchdown run.
The Big Red then recovered the ensuing onside kick. Davis took the second play from scrimmage 44 yards to paydirt. It was his second score in less than a minute as Steubenville built its biggest lead of the game, 50-29. Davis had accounted for six touchdowns (four passing, two rushing) with just under 11 minutes left to go.
Clinton-Massie answered as Christian Poynter found the end zone on a 2-yard run with 7:32 left in the fourth quarter. It would be the last score of the game.
Davis finished the contest 9-13 for 213 yards, 111 yards on 15 carries and his hand in those six of the seven Big Red touchdowns. He accounted for 324 of Steubenville's 464 yards of total offense. Bernard ran for 95 yards of which 64 came in the first two drives of the game. Johnathon Blackmon, Taylor and Agresta were the only three players to catch passes from Davis and they all had more than 60 yards receiving.
The Clinton-Massie ground game was stymied by the Big Red. The Falcons averaged 3.3 yards per carry and gained just 112 total yards. Poynter had a team high 36 yards on 16 totes. Luke Richardson made his usual big plays. The senior amassed 212 all-purpose yards (110 on three receptions) including a 53-yard punt return for a touchdown. Unfortunately it wasn't enough for the Falcons to bring home a third state title in the last five years.
Steubenville 20-16-0-14-50
Clinton-Massie 7-13-9-7-36
S: Bernard 32 run (Phillips kick)
S: Taylor 19 pass from Davis (Phillips kick)
C: Schmidt 9 pass from Stulz (Carlisle kick)
S: Taylor 26 pass from Davis (kick blocked)
S: Agresta 18 pass from Davis (Phillips kick)
C: G. Trampler 72 kickoff return (Carlisle kick)
S: Team Safety
S: Blackmon 60 pass from Davis (Phillips kick)
C: Richardson 53 punt return (pass failed)
C: Beam 7 run (run failed)
C: Carlisle 28 field goal
S: Davis 13 run (Phillips kick)
S: Davis 44 run (Phillips kick)
C: Poynter 2 run (Carlisle kick)
RECORDS: Steubenville (15-0); Clinton-Massie (13-2)