Beechwood blasts Raceland 41-0 for 2nd straight Title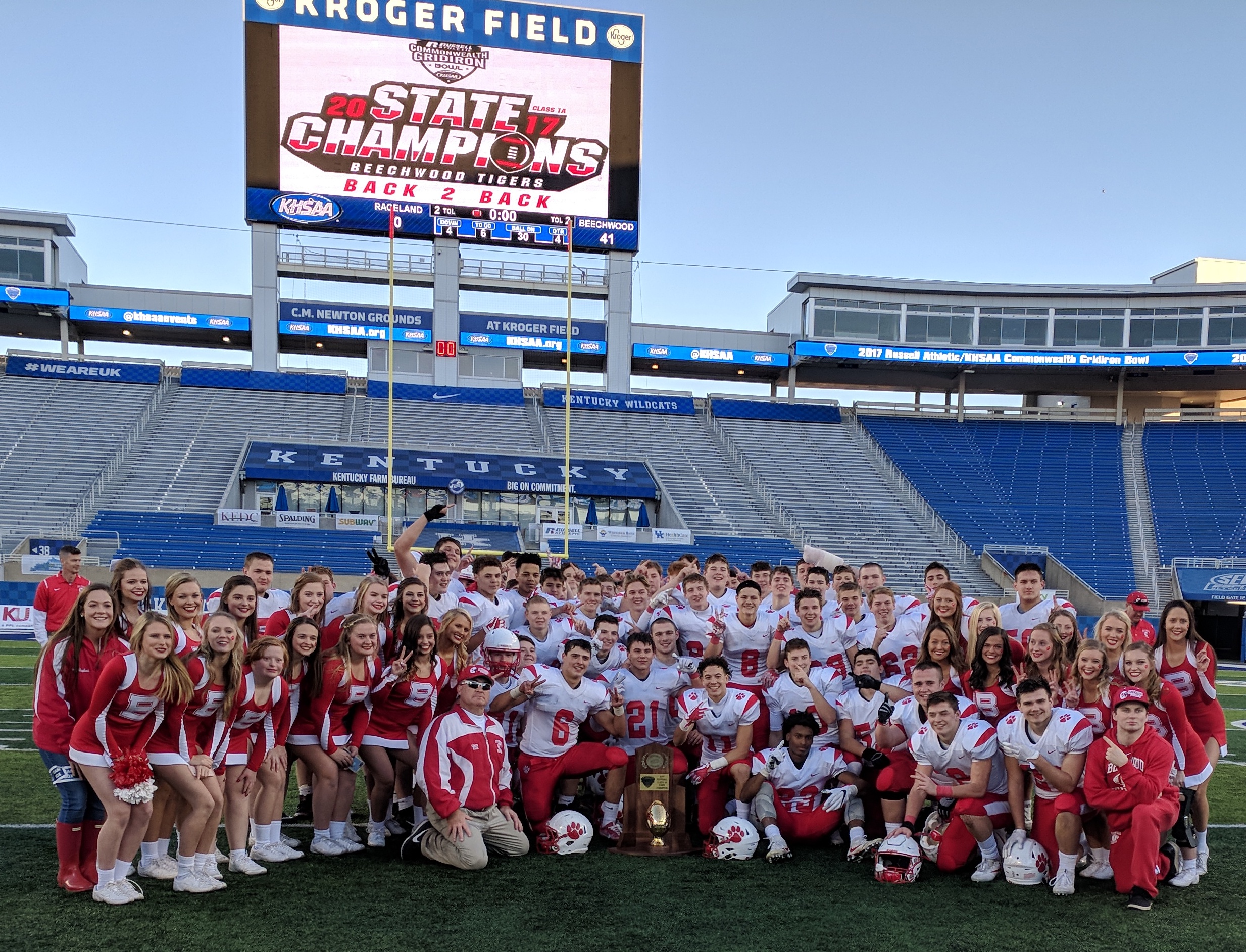 Brady Laber/Tristatefootball.com
LEXINGTON, Kentucky – The Beechwood Tigers dominated the outmatched Raceland Rams on its way to a second consecutive state championship winning the opening game of the Russell Athletic/KHSAA Commonwealth Gridiron Bowl 41-0 at Kroger Field. The title was the 13th in program history and the fourth for head coach Noel Rash.
It seems like old hat for a storied program like Beechwood but Rash was very overwhelmed and humbled by the team's good fortunes.
"These moments are rare. They haven't been rare for (the last) three years but they can be taken away at any moment," Nash said. "This is the most special time in these kids lives and my life. I'm just excited about being here and win this thing."
Raceland, who was making its first ever championship game appearance, implemented a game plan on defense to stop the run. James Davis rushed for 199 yards last week against Campbellsville and the Rams were determined to not allow that to happen in the title game. Raceland loaded the box and played receivers in man-to-man coverage.
Beechwood took advantage of that scheme by turning to its high powered passing game. Wide receiver Daniel Mescher lead the way with 12 receptions, 118 yards and one touchdown. Mescher also kicked two field goals and five extra points on his way to earning the game's Most Valuable Player honors.
"I'm really happy going back-to-back. This all goes to my teammates. It's family, more than just football, it's about friends and family. To leave it all out there (on the field) is just incredible," said Mescher.
Quarterback Brayden Burch engineered the passing attack going 22-for-30 with 186 yards passing and one touchdown.
"That just show's that our offense is very versatile. If they want to stop the run, we'll throw against them. If they want to stop the pass, we'll just hand it to James Davis and let him play," Burch said.
Davis found success against the Raceland defense running for 88 yards on 24 carries and scoring three touchdowns.
Beechwood set the tone on offense early, putting together a 13-play scoring drive on its opening possession. Davis capped the possession with a 1-yard touchdown plunge.
The Tigers defense was even more dominant then its offense. Beechwood held Raceland to just 27 yards of total offense and just three first downs. Harrison Heist lead the team with six tackles, including two tackles for loss. Robbie Cottingham, Josh Derry and Tyler Donoho were also credited with tackles behind the Raceland line of scrimmage.
Mescher added a 37-yard field goal to give Beechwood a 10-0 lead midway through the second quarter.
The Tigers special teams also came up with a big play. Raceland gave the ball back to Beechwood on the ensuing kickoff when Gage Dollenmeyer forced a fumble and recovered the ball deep in Rams territory.
Raceland earned a break when Burch lost the football scrambling away from pressure applied by the Raceland pass rush. Jayden Boggs forced the fumble and Seth Brooks recovered it.
Just when you thought Raceland had caught a break, quarterback Damon Black was pressured heavily and threw the ball into coverage and it was intercepted by Beechwood's Jake Moore.
Beechwood took advantage of the turnover as Logan Castleman scored on a two-yard run. Mescher added an eight-yard touchdown catch at the end of the half giving the Tigers a 24-0 halftime advantage.
Mescher kicked a 20-yard chip shot field and Davis scored two more rushing touchdowns in the second half, activating the running clock with 3:20 remaining in the contest.
This season marks the first round of football state championship games being played in Lexington since 1976. Attendance the game was announced at 7,103 which is a record for a Class A title game since the state went to the six-class format in 2007.
SCORE BY QUARTERS
Beechwood 7-17-3-14 – 41
Raceland 0-0-0-0 – 0
SCORING PLAYS
B – James Davis 1-yard TD run. (Daniel Mescher kick).
B – Daniel Mescher 37-yard FG.
B – Logan Castleman 2-yard TD run (Daniel Mescher kick).
B – Daniel Mescher 8-yard TD catch from Brayden Burch (Daniel Mescher kick
B – Daniel Mescher 20-yard FG.
B – James Davis 1-yard TD run (Daniel Mescher kick).
B – James Davis 5-yard TD run (Daniel Mescher kick).
RECORDS: Beechwood (12-2); Raceland (10-5)