Five EC Trojans named IFCA All-State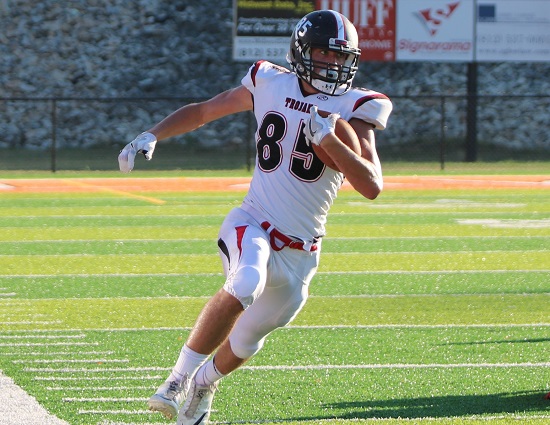 East Central TE Justin Brown (photo by Linda Lyness Maxwell)
More honors were bestowed to five member of the 2017 Indiana Class 4A state champion East Central Trojans. Seniors RB Logan Storie, TE Justin Brown, LB Tanner Yocum and DB Nathan Lloyd were named to the IFCA (Indiana Football Coaches Association) Senior All-State team. Making the IFCA Junior All-State team was QB Alex Maxwell. Also Named to the IFCA Class 4A Senior All-State team were RB Mitchell Orschell and OL Noah Hammond of Franklin County.
Storie ran for 1,947 yards, found the end zone 23 times, averaged 7.7 yards and amassed 2,416 all-purpose yards. He finishes his career with 3,816 yards rushing, 4,672 all-purpose yards and 49 touchdowns (47 rushing).
The 6-foot-5, 220 pound Brown had six of his team high 27 receptions go for scores. He had 412 yards and averaged 15.6 yards on those catches.
Yocum was the heart and soul of a Trojans defense that allowed 14 points or less in 11 of their last 12 victories. Classmate Lloyd made a lasting impression in the finale where he snared two of his five interceptions on the year. They are members of a senior class that went 15-2 in the post season.
Playing through a wrist injury, Maxwell was clutch in the playoffs. He topped the 1,000 yard mark rushing (1,075) for a second straight year. He also accounted for 25 touchdowns (20 rushing, five passing). Maxwell heads into his senior campaign having racked up 4,519 (2,607 rushing, 1,552 passing) yards of total offense while accounting for 54 touchdowns (39 rushing, 15 passing).