Shafer steps down at Madeira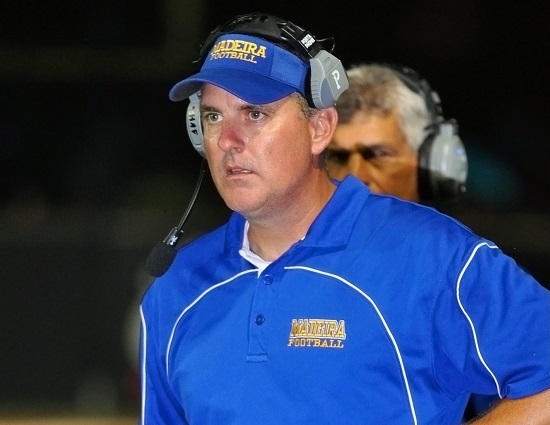 Former Madeira head coach Mike Shafer (photo by Mike Noyes/TSF)
The time has come for Mike Shafer. He has decided to step down as the head coach at Madeira. Shafer compiled a 71-44 record with the Mustangs in two stints that spanned 11 years. He led the program to five of its nine playoff appearances including four in a row from 2011 to '14. In 18 seasons as a head coach, Shafer compiled 108-77 record that also included runs at Shelby and Little Miami as well.
One of the major factors in Shafer's decision was to spend more time with his kids. "I've spent the last 25 years on the sidelines, 18 as head coach, for now it's time to move on." I have two boys coming up and I wanted to watch them from the stands," Shafer stated. "My oldest (Cannon) was a freshman last year and I coached him. Some people like coaching their kids. I didn't really enjoy it." That experience helped seal the deal on Shafer's decision.
Shafer will continue to teach at Madeira and is helping the school in its quest for his replacement. Ideally, they would lie to hire someone who is familiar with the Cincinnati Hills League (CHL). One obstacle the school faces is that there are no teaching positions available at the school for their new hire. That could hinder their search for a new front man.
Shafer is not ruling out the possibility of returning to the sidelines. "I don't want all that goes along with being a head coach but if the new coach approaches me about being an assistant in a few years, I would consider it."