Senior Salute: Kyle Blaha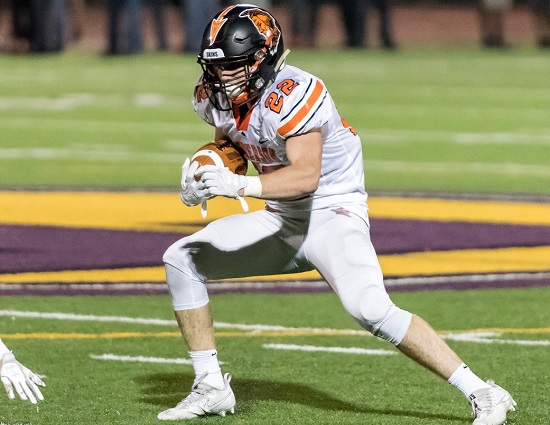 Anderson RB Kyle Blaha (photo by Justin Sheldon/TriStateFootball.com)
In the last game of his sophomore season Kyle Blaha ran for the first 121 yards of his career. It was one of the few bright spots in a 1-9 year for Anderson. The program had hit a low-point and there were some uncertainties to the future for Blaha and his classmates.
Anderson hired Evan Dreyer as its new head coach. In his wide-open, spread offense where playmakers got their touches out in space, Blaha flourished. As a junior, he ran for 906 yards, caught 37 passes for 336 yards and found the end zone 16 times (12 rushing, four rushing) for a Redskins squad that made the playoffs for the first time in seven seasons. Blaha was named Division II Special Mention All-Southwest District for his work.
With soaring aspirations, Anderson was poised for an even bigger year in '17 and Blaha found himself in the center of all the hoopla. He didn't disappoint, capping off a senior campaign with 1,762 all-purpose yards (622 rushing, 743 receiving on 58 receptions, 397 kickoff returns), had at least two receptions in every game and scored 22 touchdowns (15 rushing, seven receiving). The Redskins finished 10-2 and won a first round playoff game before eventually falling to state runner-up, Winton Woods. The 5-10, 190 pound Blaha earned First Team All-Southwest District honors as receiver for his effort.
In the end, things all worked out for Blaha. He amassed 3,225 all-purpose yards, 1,649 yards rushing, had 95 receptions for another 1,076 yards and 38 touchdowns (27 rushing, 11 receiving) in a Redskins uniform.