Senior Salute: Hunter Privett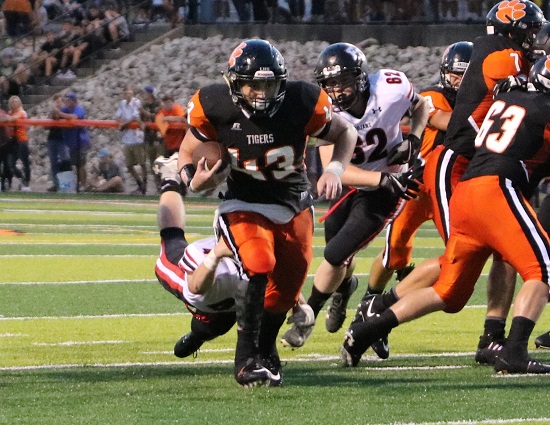 Lawrenceburg RB/LB Hunter Privett (photo by Linda Lyness Maxwell)
Those around the Lawrenceburg football program knew how good RB/LB Hunter Privett was but he played in the shadows of some pretty stellar teammates as a sophomore and junior. Privett finally got his opportunity to step out of the shadows in 2017 and he made the most of the opportunity. He was a workhorse who displayed a relentless resolve in his final campaign.
In '16, Privett played a backup role at running back behind Austin Bowling who ran for more than 3,000 yards and 52 touchdowns while helping the Tigers to an Indiana Class 3A state runner-up finish. A tough act to follow, Privett held his own with 1,424 yards rushing and 25 trips to the end zone as Lawrenceburg went 11-2 and an elite eight finish this past fall. He was named AP Class 3A All-Indiana for his efforts.
What makes Privett's performance as a senior even more impressive were the 66 total tackles, nine tackles for losses and two takeaways he had on the other side of the ball. Considering he was playing next to classmate, Mason Parris who is arguably the best linebacker to ever play in the Eastern Indiana Athletic Conference (EIAC), Privett showed he was special, too. He ends his career with 162 total tackles, 21 tackles for losses, four fumble recoveries and an interception in a Tigers uniform.
On offense, all but 43 of Privett's yards rushing at the varsity level came as a senior. He also hauled in 23 receptions for 384 yards, had one touchdown catch and 1,865 all-purpose yards. Lawrenceburg went a combined 24-4 the final two years of Privett's career. Privett holds the distinction of being the only Tiger to have scored a touchdown in a state championship game in the last 39 years.