2017 All-TSF Team: Specialists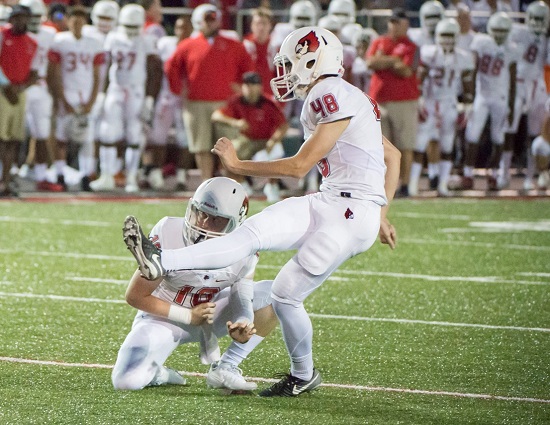 Colerain K Chris Mangold (photo by Mitchell Cooke/TriStateFootball.com)
They are the most unheralded but most exciting stars on Friday nights. They are the ones who can flip the field or put the points on the board with their legs. They are the back-breakers, rally-killers the relentless clutch performers that make their squads a cut above the competition. The "specialists" have ice water running through their veins.
There is a direct correlation to excelling on special teams and going deep into the postseason. Finding that success equals wins. East Central, Wyoming, La Salle and Winton Woods have the nominee's to validate that statement in 2017. Programs that have valued every play, in all phases of the games have given us some great performances from this past fall.
Summit Country Day stud, Xavier Johnson returned four kickoffs and two punts for touchdowns. Seven of his 25 touchdowns were on returns. Johnson also had a 99-yard pick six. He nudged out RJ Khayo (The '16 TSF First Team Return Specialist) and DJ Chambers, who everyone avoided kicking to in '17.
Thurgood Marshall junior Rolando Perez averaged 44.0 per punt and gave the Cougars a kicking game that school has never seen before. In his first season of football, Colerain kicker Chris Mangold far exceeded expectations. The junior rocked it for 99 points, crushing 13-16 field goals while having a streak of seven games of seven or more points.
Let's not forget the players who give it their all at multiple positons. This was the largest group of nominee's ever at the at the "Athlete" position for the All-TSF team. First Team selection, Wyoming junior Pierson Rogers, the DIV Southwest District Offensive Player of the Year has been a bulldog at running back and linebacker. He will be a major reason why the Cowboys will be a favorite to win a state title in '18.
Join us as we recognize all members of the 2017 Postseason All-TSF Team, Player of the Year winners from Kentucky, Indiana, Cincinnati, Dayton, Player of the year finalists from all of those areas and TSF Player of the Week winners as they will be recognized at our upcoming TSF Year in Review Show on Monday, February 19th at The Holy Grail – Banks in downtown Cincinnati.
Here is a look at the 2017 All-TSF Team – Specialists:
FIRST TEAM:
ATH – Pierson Rogers (Wyoming)
PK – Chris Mangold (Colerain)
P – Rolando Perez (Thurgood Marshall)
RET – Xavier Johnson (Summit Country Day)
SECOND TEAM:
ATH – Nelson Perrin (Scott)
PK – Mason Molique (Ryle)
P – Jared Kreimer (St. Xavier)
RET – RJ Khayo (Moeller)
THIRD TEAM:
ATH – Leonard Taylor (Springfield)
PK – Jake  Siebert (La Salle)
P – Eric Rosemeyer (East Central)
RET – DJ Chambers (Carlisle)
HONORABLE MENTION
ATH – Cornell Beacham (Winton Woods), Tywon Berry (Dayton Christian), Justin Blackburn (Ludlow), Cole Burdick (McNicholas), Daniel Mescher (Beechwood), Ivan Pace Jr. (Colerain) and Tim Williams (Aiken).
PK – Sergio Listo (Wyoming), Connor Luksic (Springboro) and Julian Pletz (Edgewood).
P – Joe Collins (Summit Country Day) and Matt Simpson (Conner).
RET – Sam Hildebrand (La Salle), Austin Price (West Clermont) and Donovan Shelton (Centerville).
ALSO CONSIDERED
ATH – Amadou Ba (Lockland), Demarco Bradley, Jr., (Taft), Seth Chinn (Dayton), Jack Coldiron (Covington Catholic), Hunter Collins (Monroe), Keith Fisher (Clark Montessori), Bryson Flucas (Meadowdale), Twon Hines (Northridge), Timothy Jordan (Aiken), Wyatt Lefker (Williamsburg), Joe Lusby (MVCA), William McDaniel (Trotwood-Madison), Jake Moore (Carlisle), Nylan Mosley (Purcell Marian), Nick O'Meara (Brookville), Hunter Privett (Lawrenceburg), Cameron Rountree (Springboro), Jake Shirey (Little  Miami), Mason Smith (Walton-Verona), Ty Smith (Owen County) and James Tucker (Franklin County).
PK – Austin Abbott (Norwood), Cam Anderson (Waynesville), Nick Bowman (Highlands), Caden Browndyke (East Central), Derrick Carlisle (Clinton-Massie), Kyle Farfsing (Harrison), Brady Henry (Wilmington), Garrett Russell (Wayne), Harry Sand (Turpin), Matt Schneider (Franklin), Caiden Smith (Tippecanoe) and Yeri Velasquez (Winton Woods).
P – Thomas Capano (Lakota East), Seth Clayton (Tippecanoe), Brandon Cusmano (Moeller), Grady Cramer (Highlands), Will Harshbarger (Valley View), Nick Hjort (Lakota West), Paul Kremer (Newport Central Catholic), Logan Lozier (Greensburg), Drew  Nieman (La Salle), Logan Persson (Indian Hill), Joe Valentine (Ross), Brandon Walters (Centerville), Jalen Watson (Trotwood-Madison) and Austin Weimer (Lawrenceburg).
RET – Evan Baugh (Milford), Milyke Brown (Withrow), Corey Burnette (Xenia), Austin Clark (Valley View), Jordan Coovert (Alter), Devon Donawerth (East Central), Jared Kinzer (Franklin), Zach Kuhlman (Roger Bacon), Peyton Leugers (Goshen), Keshaun Owens (Chaminade Julienne) and Brady Wilson (Stebbins).