2017 All-TSF Team: Defense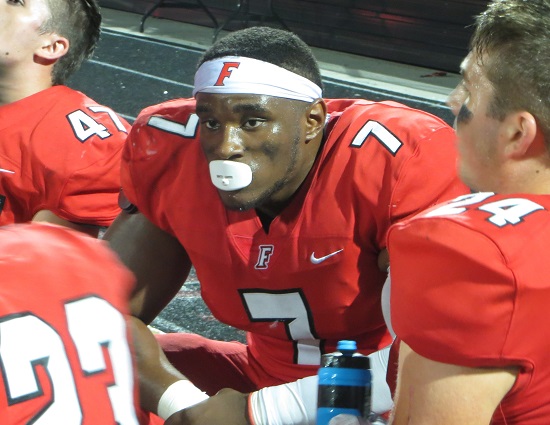 Fairfield DL Malik Vann (photo by Greg Shoemaker/TriStateFootball.com)
Depth up front will be what the 2017 All-TriState Football defensive squad will be remembered for. Pass rushers and anchors in the middle took center stage this past fall. It was another year with an abundance of talent that did not disappoint.
Linebackers Cris Oats and Mason Parris repeat as First Team All-TSF performers. Joining them with a second appearance on the first unit is lineman Malik Vann. Kam Butler was a First Team selection as a tight end in '16.
Big school conferences dominate the Second Team. Seven of the 11 members are juniors. Next season promises to bring big things as well.
Join us as we recognize all members of the 2017 Postseason All-TSF Team, Player of the Year winners from Kentucky, Indiana, Cincinnati, Dayton, Player of the year finalists from all of those areas and TSF Player of the Week winners as they will be recognized at our upcoming TSF Year in Review Show on Monday, February 19th at The Holy Grail – Banks in downtown Cincinnati.
Here is a look at the 2017 All-TSF Team – Defense:
FIRST TEAM
DL – Kennedy Coates (Trotwood-Madison)
DL – Michael Mayer (Covington Catholic)
DL – Alex Reigelsperger (Wayne)
DL – Malik Vann (Fairfield)
LB – Dan Bolden (Colerain)
LB – Kam Butler (Covington Catholic)
LB – Cris Oats (Winton Woods)
LB – Mason Parris (Lawrenceburg)
DB – Dawson Martin (Belmont)
DB – Javon Hicks (Colerain)
DB – Moses Douglass (Springfield)
SECOND TEAM
DL – Spencer Bono (Elder)
DL – Zaid Hamdan (Mason)
DL – Bobby Jefferson II (St. Xavier)
DL – Ryan Mullaney (Moeller)
LB – Cameron Hoelscher (Springfield)
LB – Thomas Kiessling (St. Xavier)
LB – Jarred Uran (La Salle)
LB – Max Wynn (Centerville)
DB – Justin Harris (Wayne)
DB – Bryce Neuse (Beavercreek)
DB – Jestin Jacobs (Northmont)
THIRD TEAM
DL – Gabe Newburg (Northmont)
DL – Xavier Peters (Lakota West)
DL – Devan Rogers (Sidney)
DL – Lonnie Phelps (Mount Healthy)
LB – Grant Dyer (Covington Catholic)
LB – Alden Simms (Alter)
LB – Payton Standifer (Springboro)
LB – Tanner Yoccum (East Central)
DB – Brayden Trattles (Simon Kenton)
DB – Ja'don Furlow (Belmont)
DB – Luke Richardson (Clinton-Massie)
HONORABLE MENTION
DL – Tyler Bentley (Lakota West), Jowon Briggs (Walnut Hills), Shane Cokes (Chaminade Julienne), Adam Derry (Beechwood), Bryce Dugan (Milford), Jackson Gear (McNicholas), Cole Pelgen (Madison Senior), Jalen Thornton (Indian Hill) and Sam Vance (Centerville).
LB – Seth Arnold (Dunbar), Jake Bracher (Mason), Bradley Davenport (Bishop Fenwick), Logan Hannah (Valley View), Mick Oakes (Indian Hill), Jackson Saladin (Ryle), Ben Schmiesing (Piqua), John Wehrkamp (Troy) and Seth Yunker (Dayton Christian).
DB – Joey Floccari (West Clermont), Jake O'Brien (Elder), Deshawn Pace (Colerain), Kievaughn Sanks (Aiken), Justin Schlarman (Cooper), Patrick Tueimeh (Sycamore) and DJ Whiles (Edgewood).
ALSO CONSIDERED
DL – Sam Ballman (Lakota East), Brandon Becraft (Fairborn), Austin Blankenship (Norwood), Andy Combs (Reading), Tanner Cromer (Reading), Marshown Curtis (Mariemont), Brian Dalidowicz (Alter), Stone Day (Valley View), Charles  Ellington (Butler), Kalos Farrior (Gamble Montessori), Steven Faucheux (Lakota West), Rushad Ferrell-Drummond (Thurgood Marshall), Matt Gelhaus (Madeira), Keegan Gindling (East Central), Nate Glossip (Franklin), Quinten Glover (Butler), Jevon Henderson (Centerville), Antoine Howard (Taft), Joshua Jordan (Trotwood-Madison), Tanner Lawrence (Campbell County), Malik Lee (Gamble Montessori), Bradley Lewis (Bethel-Tate), Chase Luckett (Badin), Patrick Magarian (Cincinnati Country Day), Jack Maile (Covington Catholic), Spencer Mayes (Carlisle), Thomas Meyers (Clinton-Massie), James Peters (Blanchester), Jonah Rolfes (Lawrenceburg), Trent Rogers (Anderson), Nick Sanchez (New Richmond), Joah Schricker (Troy), Austin Silcox (Harrison), James Smith (Wyoming), Jason Smith (Hamilton), Ayron Thompson (Middletown), Ramiro Torres (Blanchester), Joe Wahl (West Clermont), Michael Warden (Summit Country Day) and Armanie White (St. Bernard).
LB – Blake Bacevich (St. Xavier), Trey Baker (Fairmont), Zach Ball (Lebanon), Hasan Black (Wyoming), Garrett Bledsoe (La Salle), Luke Bolden (Colerain),  Albert Bradford (Belmont), Evan Brown (Edgewood), Charlie Cowart (Mariemont), Matt Centers (Franklin), Quincy Dawson (Princeton), Joe Durham (Bishop Fenwick), Kyle Fehr (Sycamore), Garrett Gabbard (Edgewood), Matt Garber (Tippecanoe), Adam Graeter (Beavercreek), David Gray (Owen County), Lane Harshbarger (Alter), Isaiah Haywood (Chaminade Julienne), Tykeise Henry (Mason County), Owen Holtke (Bethel-Tate), Alex Howard (Mount Healthy), Brody Ingle (La Salle), Antwaun Johnson (Wayne), Tyreke King (St. Bernard), Tyler Long (Hughes), Luke Lovely (Preble Shawnee), Jack McDowell (Summit Country Day), Jayvanare Nelloms (Trotwood-Madison), Cam O'Gara (Wyoming), Jimmy O'Toole (Anderson), James Parker (Trotwood-Madison), Cole Pearce (Mason), Connor Pohl (Cincinnati Country Day), Keegan Rogers (Badin), John Mark Shutt (Boone County), Rocky Stark (Chaminade Julienne), Luke Szabados (Moeller), Caleb Thurmond (Northwest), JT Thornhill (Dayton Christian), Alex Thurza (Scott), Trey Uetrecht (Clinton-Massie), Derrian Wilkins (Aiken), Dalton Williams (Bourbon County) and Ethan Young (Kings).
DB – Jaylin Anderson (CCPA), Deonte Bailey (Goshen), Ryan Batsch (Loveland), Alex Bernard (CHCA), Taron Britt (Trotwood-Madison), Toron Brown (Norwood), Jack Campbell (Bellbrook), De'Zion Coleman (Hughes), Jamorrow Dawson (Lloyd Memorial), Griffen Durso (Turpin), Wyatt Floyd (East Clinton), Ryan Hall (Fairmont), Robert Jackson (Riverview East Academy), Danny Lewis (Northmont), Nathan Lloyd (East Central), Clay  Mastin (Tippecanoe), Avi McGary (Lakota East), Elijah McKenney (Beechwood), Jack Mitchell (Butler), David Moyer (Dayton Christian), Jamar Payton, Jr. (Dunbar), Kyle Rickard (Franklin), Zach Rytlewski (Ryle), Adam Schneider (Covington Catholic), Cecil Singleton (Princeton), Quinn Smith (Winton Woods), Lorenzo Sparks (North College Hill), Danny Spivey (New Miami), Luke Tabler (Badin) and Aaron Tolliver (Eaton).