2017 All-TSF Team: Offense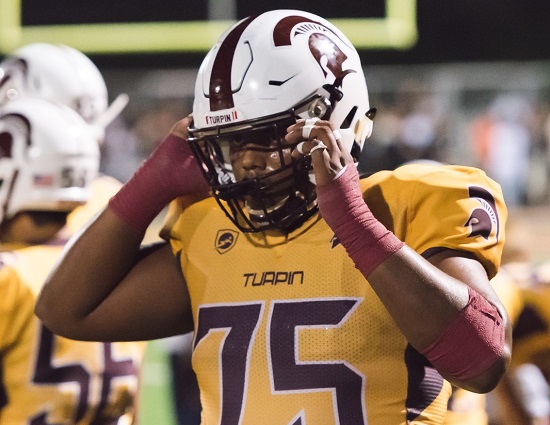 Turpin OL Quintin Wilson (photo by Mitchell Cooke/TriStateFootball.com)
For more than a decade there has been a postseason All-TriState Football Team and the 2017 version may go down as one of the strongest ever. Only time will tell how it all plays out but man is this one impressive group of dudes.
The First Team is highlighted by an offensive line that is big, strong and agile. It includes the only two juniors on the squad – Zach Carpenter and Zeke Correll.  Seven of the nine seniors have signed to play college football. The Big 10 gets richer Chase Wolf (Wisconsin, Isaiah Bowser (Northwestern), and L'Christian Smith (Ohio State) joining the conference. Tate Goodyear (Yale) is going Ivy.
There is a Northern Kentucky flare to the Second Team with a pair of Ryle and CovCath teammates. The Third Team would be a fantasy football junkies dream. There were big numbers put up by skills players on this unit last fall.
Join us as we recognize all members of the 2017 Postseason All-TSF Team, Player of the Year winners from Kentucky, Indiana, Cincinnati, Dayton, Player of the year finalists from all of those areas and TSF Player of the Week winners as they will be honored at our upcoming TSF Year in Review Show on Monday, February 19th at The Holy Grail – Banks in downtown Cincinnati.
Here is a look at the 2017 All-TSF Team – Offense:
FIRST TEAM
QB – Chase Wolf (St. Xavier)
RB – Isaiah Bowser (Sidney)
RB – Raveion Hargrove (Trotwood-Madison)
WR – Joseph Scates (Dunbar)
WR – L'Christian Smith (Wayne)
TE – Josh Whyle (La Salle)
OL – Jack Carman (Fairfield)
OL – Zach Carpenter (Moeller)
OL – Zeke Correll (Anderson)
OL – Quintin Wilson (Turpin)
OL – Tate Godyear (Sycamore)
SECOND TEAM
QB – AJ Mayer (Covington Catholic)
RB – Jake Chisolm (Ryle)
RB – Tavion Thomas (Dunbar)
WR – Dallas Daniels (Trotwood-Madison)
WR – Mancini Jackson (Reading)
TE – Erick All (Fairfield)
OL – Jonathan Allen (Dunbar)
OL – Parker Bisek (Ryle)
OL – Carter Black (Covington Catholic)
OL – Maurice Chapman (Winton Woods)
OL – Ryan Wichman (CHCA)
THIRD TEAM
QB – Jay Volpenhein (Anderson)
RB – Mitchell Orschell (Franklin County)
RB – Matt Sora (Mason)
WR – Wyatt Fischer (Western Brown)
WR – Meechi Harris (Xenia)
TE – Mason Bernhardt (CHCA)
OL – Jalen Hinton (Northmont)
OL – Rusty Feth (Colerain)
OL – Jacob Hensley (Fairfield)
OL – Dillon Stone (Hamilton)
OL – Aaron Ervin (Springboro)
HONORABLE MENTION
QB – Josh Anderson (New Richmond), Seth Becker (Bethel-Tate), Jordan Fann (Lloyd Memorial), Alec Grandin (Centerville), Kenny Mayberry (Winton Woods), Matt Shearer (Simon Kenton) and Markell Stephens-Peppers (Trotwood-Madison).
RB – John Bivens, III (Alter), Alex Dowds (Campbell County), Devin Kenerly (Northmont), Logan Storie (East Central), Cameron Svarda (Madison Senior), Bailey Wallen (Brookville) and Miyan Williams (Winton Woods).
WR – Bryant Johnson (Butler), Cameron Specht (St. Xavier), Jake Spiewak (Centerville), Nick Venemann (Highlands), Austin Watt (Anderson) and Andrew Wittrock (St. Xavier).
TE – Brenden Bates (Moeller) and Justin Brown (East Central).
OL – Conner Barton (Wilmington), Noah Hammond (Franklin County), Peyton Knippenberg (Conner), Alex Mumy (Bellbrook), Adam Valenti (Valley View) and Kairus Washington (Dixie Heights).
ALSO CONSIDERED
QB – Connor Bazelak (Alter), Brayden Burch (Beechwood), Elijah Carson (Meadowdale), Austin Davis (Piqua), Cole Dein (Indian Hill), Brian Erbe (Oakwood), Andre Gordon (Sidney), Trey Heidlage (Batesville), Austin Hoeh (Campbell County), Miles Johnson (Northmont), Blake King (Milford), Gunnar Leyendecker (Colerain), Alex Maxwell (East Central), Rashad McKee (Wayne), Griffin Merritt (La Salle), Ryan Peltier (Chaminade Julienne), Evan Prater (Wyoming), Kyle Proffitt (Goshen)Danny Vanatsky (CHCA), Sean VanNoy (Dayton Christian), Jamar Walker (Dunbar) and Frankie Young (Harrison).
RB – DJ Ames (Wilmington), Cole Barhorst (Tippecanoe), Kyle Blaha (Anderson), Fred Brown (Riverview East Academy), Tony Clark (Miamisburg), Keegan Corbett (Bishop Fenwick), Jaydon Culp-Bishop (Troy), James Davis (Beechwood), Jesse Deglow (Fairmont), Malcom Devine (Mason County), Dalton Dubois (Connersville), Martis Edwards (Gamble Montessori), Logan Flatt (Butler), TJ Gelter (New Richmond), Collin Genslinger (Valley View), Eli Gibson (Preble Shawnee), Tennyson Holmes (Indian Hill), Cole Joslin (Clermont Northeastern), Kyle Kelly (NewCath), Corey Kiner (Roger Bacon), Austin Maham (West Clermont), Elijah Malcolm (Belmont), Lavassa Martin (Badin), Travon Mason (Lloyd Memorial), Casey McGinness (Covington Catholic), Ryan Montgomery (Franklin), Quincy Perrin (Scott), Wade Phillips (Edgewood), Cameron Porter (La Salle), Christian Poynter (Clinton-Massie), KJ Redmon (Fairborn), Ben Scott (Harrison), Tyrese Sherman (Princeton), Zac Shields (Milton-Union), Jimmy Strunk (Goshen), Alex Vianello (Mariemont), Sincere Wells (Xenia), Kaden Wenger (Beavercreek), Nak'emon Williams (Kings) and Courtney Woodward (North College Hill).
WR – Jake Berkemeier (Oak Hills), Logan Castleman (Beechwood), Bryce Donnelly (Bishop Brossart), Cooper Dunn (Bethel-Tate), Fisher Hayden (Simon Kenton), Hunter Jessee (Kings), Caleb Johnson (Springfield), Tyler Johnson (Miamisburg), Amadaz Jones (Anderson), Chandler Kinhalt (New Richmond), Dashawn Lawrence (Taft), Jonathan Malek (Sycamore), Logan Mantz (Goshen), Jack McCracken (Moeller), Jabari Perkins (Northmont), Malachi Pike (Covington Catholic), Rae'Quan Prince (Winton Woods), Titus Ransom (Bourbon County), Colin Shaw (Indian Hill), Hayden Shrubb (Piqua), Brendan Talarczyk (Oakwood),  Kyle Trischler (Elder), PJ Varnadoe (Valley View), Nick Venemann (Highlands), Adam Wieczorek (Madeira), Myron Williams (Sycamore)Eric Wills (Moeller), Justin Wise (Kings), Jaylen Zachery (Thurgood Marshall) and CJ Young (Harrison).
TE – Stefan Clarkson (Ryle), Jack Cravaack (Madeira), Connor Foster (Milford), Derek Hite (Piqua), Spencer Klopfenstein (Troy), Mason Kramer (Campbell County), Logan Mears (Batesville) and Devin Milton (New Richmond).
OL – Derrian Anderson (Taft), Andrew Arnold (Goshen), Seth Bean (Connersville), Adam Bedel (Batesville), Ben Blevins (Little Miami), Kameron Block (Troy), Caleb Bolen (Madison Senior), Connor Bunts (Fairmont), Eli Cupp (Wyoming), Michael Dunn (Highlands), Chase Evans (Mason), Caleb Fawley (Beavercreek), Noah Fisher (Beechwood), Grant Hemmer (Covington Catholic), Mylan Howard (Thurgood Marshall), Andrew Jaeger (La Salle), Luke Lane (Lebanon), Clint Lorenz (Greensburg), Alex McQueen (West Clermont), Tommy Peaco (Northridge), Seth Phipps (Edgewood), Dahzuan Richardson (Fairborn), Kevan Ridley (St. Bernard), Braden Russell (Greenville), Dalton Tucker (Bourbon County), Noah Turner (Simon Kenton), Dan Troxell (New Richmond), Garrett Vanlandingham (Dixie Heights), TJ Vicars (Ross), Spencer Voss (Clinton-Massie), Nate Weber (Harrison), Jaison Williams (Trotwood-Madison) and Trent Wilson (Valley View).