Schedule Sneak Peek: Centerville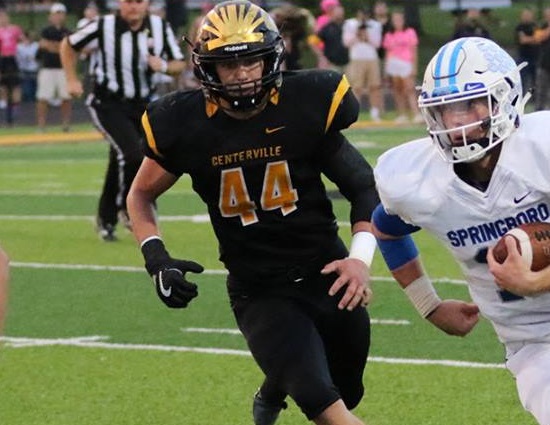 Centerville LB Max Wynn (photo courtesy of ScoutingOhio.com)
Four home games to start the season should get Centerville off on the right foot. Nine of the Elks 10 opponents are the same as a year ago. They went 8-1 against those foes including seven victories by 12 points or more points. Oakridge Secondary School out of Canada is the lone newcomer to the schedule. Despite the grueling slate the programs 17th trip to the playoffs is well within reach.
Here is a look at the 2018 Centerville schedule:
Fri – 08/24/18 – FAIRFIELD – 7:00 PM
Fri – 08/31/18 – LAKOTA WEST – 7:00 PM
Fri – 09/07/18 – OAKRIDGE S.S. (London, ONT) – 8:00PM
Fri – 09/14/18 – SPRINGFIELD – 7:00PM
Fri – 09/21/18 – @Springboro – 7:00PM
Fri – 09/28/18 – WAYNE – 7:00PM
Fri – 10/05/18 – @Lebanon – 7:00PM
Fri – 10/12/18 – NORTHMONT – 7:00PM
Fri – 10/19/18 – @Fairmont – 7:00PM
Fri – 10/26/18 – @Beavercreek – 7:00PM
FINAL TAKE: Centerville may not go 9-1 in the regular season like they did a year ago with such a tough slate. A seven-point loss at Northmont was the only thing that kept the Elks from a perfect 10-0 campaign. A run like is going to be tough to duplicate. The good news is that Centerville will have a plenty of opportunities to amass big Harbin Points on almost a weekly basis. All of the toughest tilts for the Elks will be at home and that should aid in their playoff push. Even if they lose three games expect Centerville to be playing in November.