Class of 2021 Some Impressive Freshmen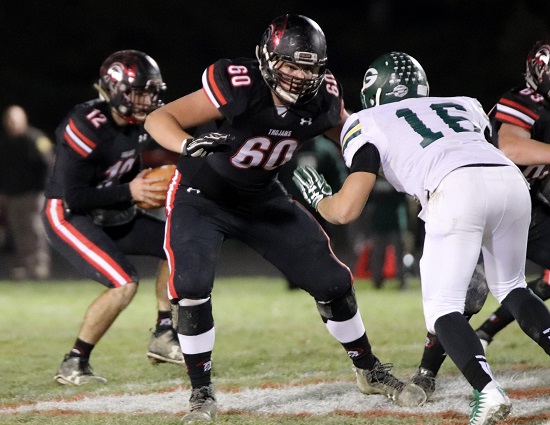 East Central OL Luke Collinsworth (photo by Linda Lyness Maxwell)
First impressions often tell much and if that is the case last year's crop of freshman have very bright futures. There were some inspiring performances by Class of 2021 members that made people take notice. Corey Knier (Roger bacon), Brayden Sipple (Blanchester), Diego Neri (Northwest) and Austin Mullins (Wayne) put on shows. Luke Collinsworth and Nathan Griffin started for state champion, East Central. That's tough as nails.
Here is a look at the freshmen who made an impact for their teams in 2017.
Adam Burd, Lawrenceburg, QB – "Adam is very explosive in the running game. He is hard runner who is very elusive in the open field," Lawrenceburg head coach Ryan Knigga rings in on the youngster's talent. Burd split time at quarterback and was used primarily as a runner, racking up 576 and 10 touchdowns on the ground. He also threw for 258 yards and a pair of scores. Incoming freshman Garrett Yoon will be vying for snaps along with Burd this fall.
Luke Collinsworth, East Central, OT – A starter for the Indiana Class 4A State Champion Trojans. At 6-foot-6 and 275 pounds Collinsworth is a big-time college prospect. The mailbox is getting ready to fill up with offers.
Nathan Griffin, East Central, OLB – Like teammate Collinsworth, Griffin was a starter for the Indiana Class 4A State Champion Trojans. He was named Dearborn County Newcomer of the Year by the Dearborn County Register after racking up 33 total tackles, recovering two fumbles, picking off two passes with a sack.
David Gronotte, Covington Catholic, K – Did his job and did it a lot for the Kentucky Class 5A State Champion Colonels. Gronotte connected on an eye-popping 83 extra points, had a pair of field goals and averaged 5.9 points per game.
Jerry Heard, Deer Park, QB – After running for his life on most every snap last fall, Heard should have a better sophomore season as the Wildcats have upped their talent level. The bad, Heard only completed 16 of 66 passes (24.2%) with just two touchdowns, seven interceptions and six fumbles. The good, Heard averaged 23.7 yards per completion, had 379 yards passing, ran for another 351 yards and five rushing touchdowns. He was named Second Team All-CHL.
Daniel Hudepohl, Gallatin County, QB/DB – A starter since game one as a Wildcat. Hudepohl is a good-looking athlete who threw for 664 yards, ran for 374 yards, accounted for eight touchdowns (seven rush, one pass), recorded 40 total tackles and had an interception. He did not sell popcorn at halftime, despite the rumor.
Hunter Jester, Fayetteville-Perry, RB/LB – A producer on both sides of the ball. Jester ran for 838 yards with eight touchdowns, had 51 total tackles and recovered a fumble on his way to Honorable Mention SBAAC National acclaim.
Freddie Johnson, Colerain, RB/DB – May be a year away from really bursting onto the scene with the Cardinals loaded, senior-laden backfield. Believe us, Johnson is the real deal.
Adam Kelly Jr., Connersville, QB – The coaches son was thrown into the fire and took some lumps. "Adam is a smart player with good size and improving physical tools. We are looking for him to take a big step in his sophomore season, says dad and Spartans head coach, Adam Kelly, Sr.
Corey Kiner, Roger Bacon, RB – Had one of the best freshman seasons the TriState has seen in a long time. Kiner ran for 1,226 yards, amassed 1,623 all-purpose yards and found the end zone 17 times (15 rush). He set the school record with 304 yards on the ground versus Western Hills. For his efforts, Kiner was named Division IV Honorable Mention All-Ohio and First Team All-Southwest District. Kiner has offers from Indiana and Kentucky.
Kaleb Kingery, East Clinton, LB – Was named Second Team All-SBAAC National after recording 53 total tackles and a sack. Kingery also amassed 199 kickoff return yards.
Will Klekamp, Indian Hill, LB – Played liked an upperclassman who had earned multiple letters. Klekamp tallied 33 total tackles with one-and-a-half sacks on his way to Honorable Mention All-CHL accolades.
Jeremiah Lee, Cooper, QB – Expect a breakout year from Lee as the game should slow down for him. He threw for 503 yards, ran for 561 yards and accounted for 13 touchdowns (seven pass, five rush, one rec) for the Jaguars.
Luke Lytle, New Richmond, QB/DB/K – Found a way to get on the field as a kicker and hit 36 extra points and had a pair of field goals. Lytle will be a frontrunner to take over at quarterback for the Lions after this season is over.
Austin Mullins, Wayne, WR – It is absolutely amazing that Mullins was able to snatch 36 receptions on a Warriors team that featured L'Christian Smith whose now at Ohio State and Steven Victoria who heads into his senior year with 73 career catches. Mullins finished his debut with 421 yards receiving, five touchdowns catches, had seven games with at least three receptions (two games of seven) and was named Second Team All GWOC National East. Oh yeah, he did all this at the mighty size of 5-foot-6 and 155-pounds! "Austin Mullins is a player everyone would love to have on their team. He is one of the toughest and most coachable players I have ever been around," Wayne head coach Jay Minton proudly states.
Diego Neri, Northwest, LB – "One of the hardest workers on the team and a football junkie," Knights head coach Lee Johnson laments on Neri. He was amed Second Team All-SWOC after getting in on 91 total tackles, forcing three fumbles, and recovering three fumbles including returning one for a touchdown. Neri is the best prospect to come out of Northwest since Preston Brown (University of Louisville, Buffalo Bills, Cincinnati Bengals). The young man also excels in the classroom and is currently holding a 3.8 GPA.
Graham Nicholson, Summit Country Day, K – Took over kicking duties midway through the season and was named Second Team All-MVC Scarlet. Only missed two extra points until season finale.
Robbie Parsons, Franklin County, NT – One of the rising stars in the EIAC's tremendously promising Class of 2021. Parsons recorded 56 total tackles with three-and-a-half sacks and a fumble recovery, on his way to Honorable Mention All-EIAC 4A accolades.
Jamar Payton Jr., Dunbar, DB – A First Team All-SOPL National selection after getting on 33 total tackles and intercepting five passes. Payton, Jr. draws high praises from Wolverines head coach, Darran Powell. "For a freshman, he was always in the right place at the right time. He is the leader of our secondary."
Trey Robinette, New Miami, QB/DB – Amassed 1,474 yards of total offense (1,075 pass, 399 rush) and accounted for 11 touchdowns (nine pass, two rush). On defense, Robinette came up with three takeaways (two int). The effort earned him Special Mention All-MVC Gray acclaim.
Gianni Rudolph, Taft, DB – Snared three interceptions and recorded 44 total tackles on his way to Second Team All-SOPL American honors.
Bryce Singleton, Preble Shawnee, TE/LB – Was vital cog on both sides of the ball for a Preble Shawnee squad that went 8-2. Singleton finished strong with 10 of his 12 receptions (122 yards) and both of his touchdown catches in the Arrows last five games. That effort earned him Second Team All-SWBL Buckeye honors as a tight end.
Brayden Sipple, Blanchester, QB – A real rising star. Sipple threw for 1,409 yards and 16 touchdowns to earn First Team All-SBAAC National honors a freshman. He followed that up with All-Ohio honors in basketball. "Our pass game should really step up with a second-year quarterback who has matured immensely. Look for him to light it up," Blanchester head coach Brandon Sammons on Sipple.
Wil Sizer, Western Brown, LB – A Second Team All-SBAAC American selection, football is in Sizer's blood. Everyone should be rooting for this young man and all he has gone through with his dad and his former head coach, Don, who was NAIA All-American linebacker at Wilmington.
Detray Smith, North College Hill, OL/DE – Should be a force over the next three years for NCH. Smith was named Honorable mention All-MVC Scarlet.
Devontay Smith, La Salle, WR/DB – has explosive speed. Smith will push the envelope to get more touches as the season wears on. Finished with 89 yards rushing and five receptions for the Lancers.
Reis Stocksdale, Little Miami, WR – Caught 14 passes for 188 yards and three touchdowns for the 7-3 Panthers.
Cameron Trimnell, Dayton, WR/DB – On an abbreviated Green Devils roster, Trimnell recorded 42 total tackles, ran for 72 yards with a trip to the end zone and had five receptions for 60 yards.
Malik Verdon, Lakota West, QB – Has yet to play a down at the varsity level but already claims an offer from Florida State.
Hunter Warner, Fairborn, LB – It seems like every year Fairborn has a freshman who puts up astonishing numbers and Warner was that guy in '17. He was named First Team All-GWOC American South after racking up 96 total tackles (49 solo) with a forced fumble and a fumble recovery. "Hunter is a very intense young man. He is a relentless worker and very coachable. Above all he is a good kid," Skyhawks head coach Chris Roark chirps about this prized pupil.