2018 Preseason TSF Rankings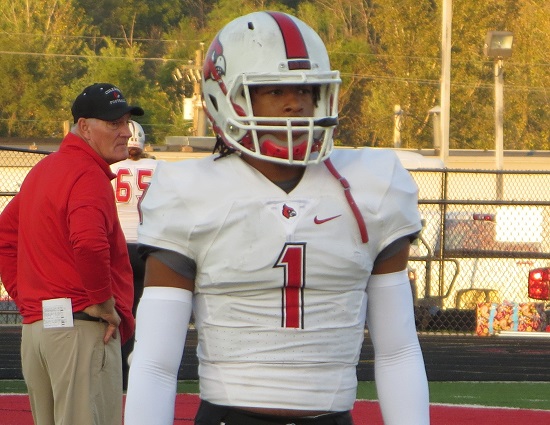 Colerain RB/DB Syncere Jones (photo by Greg Shoemaker/TriStateFootball.com)
Let the debates begin. With little fanfare needed here are the 2018 Preseason TriStateFootball.com Rankings for Northern Kentucky and in Southwest Ohio for Division I, Division II-III along with Division IV-VI.
RANKINGS – OHIO DI
It wasn't hard to place #1 Colerain atop of the Preseason 2018 TriStateFootball.com Ohio Division I Team Rankings. The Cardinals are loaded with talent returning from last year's regional championship squad. The difficulty is trying to sort out who is really the best behind Colerain.
Despite back-to-back four-win campaigns #2 Moeller appears ready to take a big step forward under new head coach and former Crusader, Doug Rosfeld.  Big Moe's Greater Catholic League South rivals #3 St. Xavier and #4 Elder can also make a legitimate case for the Crusaders poll position. Elder has a chip on its shoulder after finishing 6-4 with a win over Moeller. The Panthers were edged out of the postseason by the Crusaders who finished under .500 last fall.
Four Greater Western Conference schools are in the rankings with #5 Northmont ranked highest. Three GWOC American East teams are ranked – #6 Wayne, # 8 Centerville and #10 Springfield. The division saw all five of its members finish 6-4 or better in '17.
The highlight of the Week 1 schedule will see Colerain taking the TSF Division II-III #1 La Salle. The only other Week 1 matchup between ranked teams sees #8 Centerville hosting #7 Fairfield.…COMPLETE RANKINGS
RANKINGS – OHIO DII-III
The usual suspects populate the polls top spots with La Salle occupying the #1 slot of our Preseason 2018 TriStateFootball.com Ohio Division II-III Team Rankings. The La Salle offense gets a big boost by having junior MJ Horton, a transfer from Division I Lakota West, under center. The Lancers had one achilles heel last fall, #2 Winton Woods. The Warriors beat La Salle twice (by two and three points) including in the Division II, Region 8 regional championship.
The top Division III squad in the rankings is reigning state champion, #3 Trotwood-Madison. The Rams have won 15 in a row heading into this season. They will open at '17 Division II state runner-up, Winton Woods. Trotwood-Madison averaged 47.9 points per game and scored 56 or more seven times last fall.
Other premium matchups that kickoff the year will see #5 Anderson travel to #8 Mount Healthy while #4 Alter, #6 Sidney and #9 Troy all take on teams that made the playoffs a year ago.…COMPLETE RANKINGS
RANKINGS – OHIO DIV-DVII
For the second straight season Wyoming ropes in the top spot in our Preseason 2018 TriStateFootball.com Ohio Division IV-VII Team Rankings. The Cowboys never relinquished that ranking in '17.  Wyoming is experienced and deep. The pieces are in place for a state title run.
Division IV state runner-up, #2 Clinton-Massie will have their say in the outcome of the Division IV, Region 16 playoff picture. The Falcons will also look the part of a state champion. It will be a top-heavy region with #3 Indian Hill who is way above average and very balanced in all phases of the game. A pair of GCL Co-eds #4 Fenwick and #6 Roger Bacon feel good about what they bring to the table. Opponents will be geared up to stop Roger Bacon sophomore running back Corey Kiner but the Spartans offense is more than just him.
Three Division V schools crack the poll with the reigning Region 20 champions and state semi-finalist #5 Madison Senior ranked highest. The Mohawks historic run last season came in the programs first ever trip to the playoffs. Their nucleus that plays smash-mouth brand of football remains intact including, lighting fast running back, Cameron Svarda. Out to avenge last November's playoff loss to Madison Senior will be #8 CHCA. The Eagles offense gets a big boost from transfer DJ Ames who ran for 1,222 yards and 17 touchdowns for Division III Wilmington, as a junior. With 17 starters returning and a rising star in sophomore quarterback, Brayden Sipple, #10 Blanchester could be a real sleeper.…COMPLETE RANKINGS
RANKINGS – NKY
In the common wealth it's Covington Catholic manning the throne. The reigning Class 5A KHSAA state champion Colonels come in at #1 in the Preseason 2018 TriStateFootball.com Northern Kentucky Team Rankings. There are big holes to fill for CovCath but the core of returning lettermen should make a valiant run at another title.
Like Covington Catholic, #4 Beechwood is looking to defend its Class 1A state crown. The Tigers will be swapping Classes and Districts with #8 Newport Central Catholic in 2019.
The #3 Ryle Raiders get the unenviable task of trying to snap CovCath's 15-game winning streak to kick off the season in Week 0. The only other opener featuring ranked opponents will see #7 Scott at #8 NewCath….COMPLETE RANKINGS