Anderson Gets Message at Halftime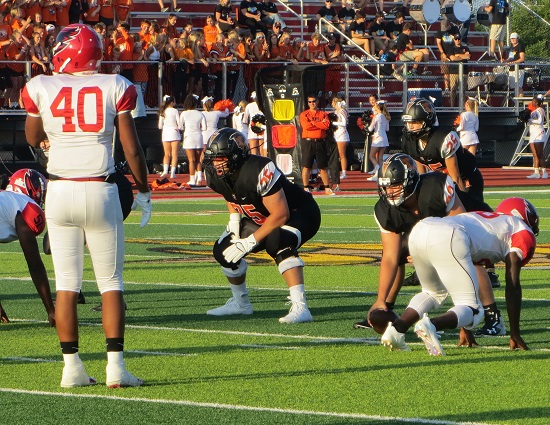 CINCINNATI, ohio – Anderson scored 20 unanswered third quarter points to pull away from Mount Healthy. Trailing 19-14 at halftime the Redskins stormed out of intermission with a vengeance getting a pair of touchdown runs by Bennett Snyder and a second scoring reception by Eric Curless to seal the Owls fate.
Anderson senior Joey Newton was a handful for Mount Healthy to contain. Following the games first score on a nine-yard run by Owls junior Brandon Lamier, Newton took the ensuing kickoff 84-yards to the house. A minute later, after a Mount Healthy turnover, Newton threw a touchdown pass to Curless on a razzle-dazzle play that completely fooled the Owls defense. It was the first trip to the end zone for Curless, at the varsity level.
Newton finished the game with 201 all-purpose yards, including three receptions for 55 yards. Classmate Curless had seven catches fo4 144 yards and two touchdowns (all career highs). Junior Snyder carried the ball 19 times for 87 yards in his debut as a starter.
Lamier had a game high 129 yards rushing and three touchdowns. Quarterback Michael Crawford picked up 124 yards on the ground for the Owls.
SCORE BY QUARTERS
Mount Healthy 6-13-0-6-25
Anderson 8-6-20-0-34
SCORING PLAYS
M: Lamier 9 run (kick failed)
A: Newton 84 kickoff return (Kuhn run)
A: Curless 25 pass from Newton (run failed)
M: Lamier 2 run (run failed)
M: Lamier 6 run (McKee kick)
A: Curless 25 pass from Thompson (run failed)
A: Team Safety
A: Snyder 6 run (kick failed)
A: Snyder 3 run (pass failed)
M: Hall 17 pass from Crawford
RECORDS: Mount Healthy (0-1); Anderson (1-0)
UP NEXT: Mount Healthy will host Sycamore; Anderson hosts Hamilton