Smith-Moore Leads Colerain To Victory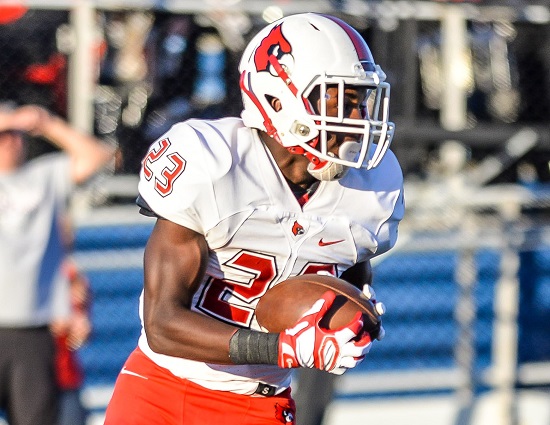 Colerain RB JJ Davis (photo by Mike Noyes/TriStateFootball.com)
Colerain got revenge Friday night at home, defeating La Salle, 23-0.
Last season Colerain struggled to put together scoring opportunities as they lost 7-3, but this year was completely different.
Colerain senior quarterback Deante Smith-Moore rushed for 157 yards on 24 carries and scored the first touchdown of the season. Smith-Moore had only 58 yards in last season's meeting.
Senior Ivan Pace Jr. was second on the team with 54 rushing yards on 13 carries and a rushing touchdown.
La Salle struggled to produce any offense. The Lancers rushed for 102 yards, led by senior Kevin Howard and junior M.J. Horton. Howard produced 46 yards, and Horton carried 13 times for 42 yards. The offense coughed up the ball twice in this game.
The scoring all came in the first half as Colerain scored two touchdowns and a field goal in the first quarter, and one touchdown in the second quarter. Smith-Moore scored the first on a five-yard run.
Three minutes later Chris Mangold kicked a 29-yard field goal. Senior running back J.J. Davis got the ball across the endzone on a seven-yard score. Davis' touchdown was setup by Howard's fumble that was recovered by senior linebacker and Miami University Luke Bolden at the Lancers 36-yard line.
Pace Jr. had the third and final touchdown in the second quarter with a 9-yard score to make it 23-0.
Bolden had seven tackles, and senior linebacker Eric Phillips tallied six tackles and half a sack. The defense held the Lancers to only five first downs.
Colerain will have a challenge ahead of them in Week 2 when they play at St. Xavier (1-0). Both teams have allowed zero points as the Bombers shut out Lakota West, 34-0, at Paul Brown Stadium. La Salle will host Mason (1-0). The Comets are coming off a 10-6 at home against Springboro.
LaSalle 0-0-0-0-00
Colerain 16-7-0-0-23
H-Smith-Moore 5-yard run (PAT Failed)
H-Mangold 29-yd FG
H-Davis 7-yd TD run (Mangold PAT)
H-Pace 9-yard TD run (Mangold PAT)