Mason Pulls Away Late Against Oak Hills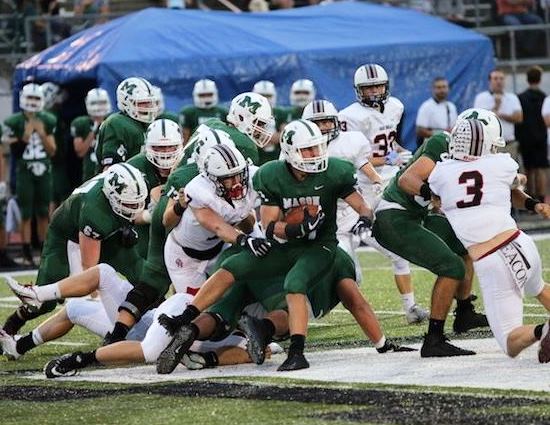 MASON, ohio – Mason managed to pull away from Oak Hills in the fourth quarter, winning 20-6 as they improved their record to 2-1. For most of the game, it seemed like both defenses were playing phenomenal but that wasn't necessarily the truth. Oak Hills scored the first points with a 38 yard field goal in the first quarter and was able to hold off Mason from scoring until 1:34 left until halftime. Going into half, Oak Hills trailed 7-3.
In the third quarter, neither teams scored a single point. However, Mason was able to generate enough offense to score two more touchdowns in the fourth.
With the last one being a 73-yard rushing touchdown for Nolan McCormick as the time expired. Both teams struggled on third-down conversions with the Comets going 4-of-14 and the Highlanders going 1-of-15 on the critical down.
Mason's sophomore running back, Nolan McCormick, had 20 rushing attempts for 204 yards with two touchdowns. Mason's defense however did a good job, holding the Highlanders to only 146 total offensive yards and no touchdowns.
Tonight was another victory for @MasonCometsFB, this time defeating Oak Hills! Find photos from the game here: https://t.co/fHmJEDyosz pic.twitter.com/EzGcxZOgoL

— MHS Chronicle (@mhschronicle) September 8, 2018

SCORING BY QUARTERS
Oak Hills 3-0-0-3-6
Mason 7-0-0-13-20
SCORING PLAYS
OAK: Z.Moeller 38 yd FG
MAS: N.McCormick 28 yd run (C.Sipe kick)
MAS: L.Dalton 10 yd run (C.Sipe kick)
OAK: Z.Moeller 41 yd FG
MAS: N.McCormick 73 yd run
RECORDS: Oak Hills (2-1); Mason (2-1)
UP NEXT: Oak Hills welcomes Hamilton (0-3); Mason host Sycamore (3-0)
*Photo from @mhschonicle on Twitter.