Indiana Roundup: Greensburg Wins Wild One at Lawrenceburg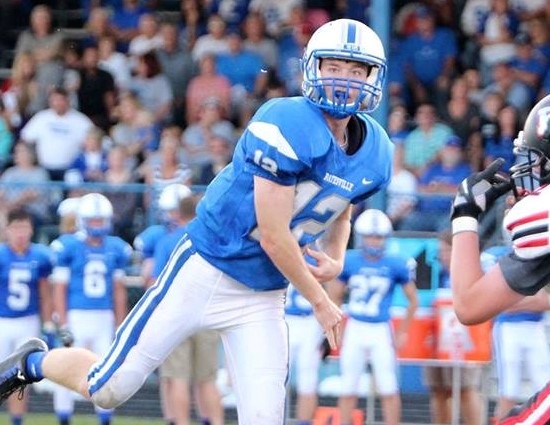 Batesville QB Trey Heidlage (photo by Linda Lyness Maxwell)
In a see-saw battle, Greenburg escapes with a one-point victory, 34-33 at Lawrenceburg. Trailing 21-14 entering the fourth quarter the Pirates fought their way back in what was a frenzied final stanza. Greensburg scored three unanswered touchdowns, all in a span of eight minutes, to take a 34-27 lead.
Out of the timeouts with just over three minutes to play Lawrenceburg drove down the field and scored on freshman Garrett Yoon's third touchdown pass of the game, hitting Jalen Parks from 10 yards out. That pulled the Tigers to within one. They went for the win on a two-point conversion but Yoon's pass fell incomplete. Greensburg would run the clock out.
The Pirates were led by senior Aaron Black, who ran for 151 yards on 22 carries, had pair of touchdowns and recovered a key fourth quarter fumble. Classmate Joey Woods racked up 151 all-purpose yards and found the end zone on a reception and a run. Yoon racked up 417 yards of total offense (344 pass, 73 rush) and accounted for five touchdowns (three pass, two rush) for the Tigers. Brother Gavin Yoon had six catches for 129 yards and a score. Parks had eight receptions for 124 yards.
SOUTH DEARBORN 56, CONNERSVILLE 0
Everyone take notice. The once lowly South Dearborn football program has won three games in a row after blanking Connersville. It was the third shutout of the year for the Knights who have given up just seven points in 2018. The modest three game winning streak is the schools longest since '11. South Dearborn junior running back Dalton Guthrie set the school record with five rushing touchdowns. He finished the night with 222 yards on 16 carries.
EAST CENTRAL 58, FRANKLIN COUNTY 7
Alex Maxwell accounted for seven first half touchdowns as East Central rolled Franklin County. The Trojans senior quarterback ran for five scores (on just six carries) and threw two touchdown passes to Trevor Becker. All seven of those East Central scoring drives lasted less than two minutes including three in a row that were just one play long. Maxwell finished his night with 103 yards passing and 75 rushing. Becker led all receivers with four catches and 70 yards receiving.
BATESVILLE 45, RUSHVILLE 22
jumped out to a 21-0 first quarter advantage and never looked back. As has been the case most of this season the Trey Heidlage to Austin Siefert connection did major damage to Rushville's thoughts of an upset. The Bulldogs eclipsed the 40-point mark for the third time. Rushville senior Cameron Craig continued his great start to 2018 running for 221 yards on 20 carries. He scored all three of the Lions touchdowns and has 654 yards rushing through four games.
NEXT WEEK'S EIAC SCHEDULE:
Rushville (2-2, 0-1) at Connersville (0-4, 0-2)
Batesville (3-1, 1-0) at East Central (3-1, 1-0)
Greensburg (3-1, 0-1) at South Dearborn (3-1, 1-0)
Lawrenceburg (1-3, 0-1) at Franklin County (1-3, 1-1)