Springfield Upsets Wayne in OT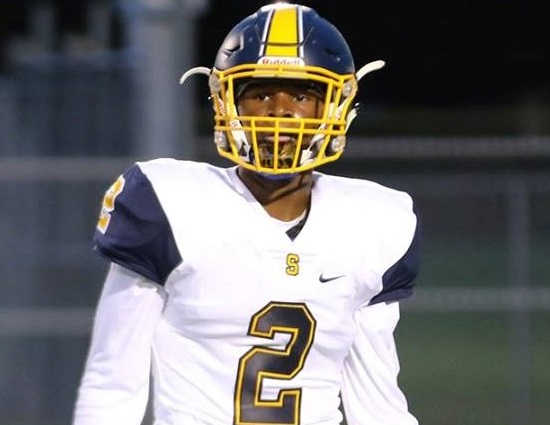 Sringfield's Larry Stephens only had one reception, but it was the biggest reception in the game. Stephens caught a 20-yard pass from Raheim Moss in overtime to help upset GWOC rival Wayne, 33-26, Friday night at home. Springfield defense stopped Wayne on the ensuing overtime possession to win the game.
This was the Wildcats first win against Wayne since 2010.
Wayne's Trevor Hawley tied the game when he connected on a 29-yard field goal with just over four minutes left in the game at 26 apiece. The game went into overtime and Springfield took advantage of their lone overtime possession with Moss connecting with Stephens on only his fourth completion on the night.
The Wildcats had a 26-16 lead going into the fourth quarter, but the Wayne Warriors scored six seconds into the final quarter when Rashad McKee found Steven Victoria on a 28-yard reception to cut the deficit, and Hawley hit his field goal later in the quarter to tie the game.
Jeff Tolliver led Springfield with 66 yards and a touchdown, but the Wildcats combined to rush for 173 yards. Michael Brown-Stephens led the team in receiving having caught a 54 and 41-yard receptions.
Wayne junior running back Devin Nelson rushed for 197 yards on 32 carries and scored a touchdown. Nelson has rushed for over 100 yards in three of the last four games and has scored 10 touchdowns in his last four games. McKee completed 12 passes for 152 yards with a passing and rushing touchdown.
This is Springfield's eight win on the season and has won two straight games. They also secure first place in the GWOC National East. Wayne falls to 6-3 and still vying for a Division I playoff spot, but host a 6-3 Trotwood-Madison next Friday. Springfield plays its season finale against Fairmont, who lost to Centerville Friday night.
Wayne 7 9 0 10 0 26
Springfield 14 3 9 0 7 33
S: Tolliver 20-yd run (Carey PAT)
W: Nelson 6-yd run (Hawley PAT)
S: Brown-Stephens 12-yd run (Carey PAT)
W: Hawley 36-yd FG
W: McKee 1-yd run (PAT FAILED)
S: Carey 40-yd FG
S: Carey 23-yd FG
S: Smoot 5-yd run (PAT FAILED)
W: Victoria 28-yd pass from McKee (Hawley PAT)
W: Hawley 29-yd FG
S: Stephens 20-yd pass from Moss (Carey PAT)
RECORDS: Wayne (6-3); Springfield (8-1)
UP NEXT: Wayne hosts Trotwood-Madison (6-3); Springfield hosts Fairmont (6-3)